McCain will use the occasion to pick up cash from his handlers and show the Zionist crowd that he plans on keeping his face planted firmly in their collective alimentary canal.
Maybe John Boy will lead a sing a long of his fav tune:
"Bomb, bomb, bomb, Bomb Bomb Iran."
P.S. Hey, Johnny Boy, when speaking, anytime you say Israel, be sure to shed a few tears. And be sure to mention their favorite word,
Holocaust™
and the shekels will flow like wine.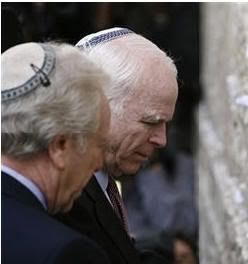 South Florida: McCain to speak Monday in Palm Beach County
April 27, 2008
Presumptive Republican presidential nominee John McCain is scheduled to make another fundraising trip to Palm Beach County on Monday afternoon. This time, it's for an event that Republican leaders describe as a "pro-Israel" event.
McCain will address local Jewish community leaders at the home of Carlyn and Lothar Mayer in Ocean Ridge. Lother Mayer, a retired businessman, is a donor and organizer of AIPAC, the American Israel Public Affairs Committee, a pro-Israel lobby.
Besides McCain, the event, to be held from 2 to 4 p.m., is expected to include Republican U.S. Sen. Mel Martinez.
McCain last visited Palm Beach County on March 6 when he attended a fundraiser in Gulf Breeze and raised an estimated $1 million.