Someone call the ADL and get Abe Foxman to issue a statement denouncing this brutality.
Email Alan Dershowitz so he'll show righteous anger against this travesty.
Get Senator Joe LIeberman to introduce a bill...
What?
Can't touch this subject, since it's our only
friend
in the ME, Israel siccing another band of rabid thugs on anyone that dares that doesn't slavishly follow the tenets of Judeofascism.
Sssssshhhh.
Posted by
willyloman
on October 5, 2008
(Burning stores that sell MP3 players and internet access and stoning women who wear the "wrong" clothes. "If it takes fire to get them to stop, then so be it." said one zealot of his support for these actions. This is what we call our beacon of democracy in the region? Notice the sign down there is addressed To WOMEN AND GIRLS. Girls. (What kind of sick, cowardly, piece of shit throws rocks at girls? And we send these people money to help with their defense?)They would throw stones at girls because they don't adhere to their ultra-fundamentalist views about an invisible flying spagetti monster and they dared walk through this neighborhood… in our Beacon of Democracy in the Region?
These are the same kinds of zealots that steal land in Palestine and attack little old ladies with baseball bats and they are the same kinds of zealots that keep track of voting records of OUR congressmen so they can pressure them into voting for THEIR issues. Now, I want you to think real hard about this; if this kind of behavior was taking place in Alabama about 40 ago, we would call these guys the Klan and we would brand them a hate-group.)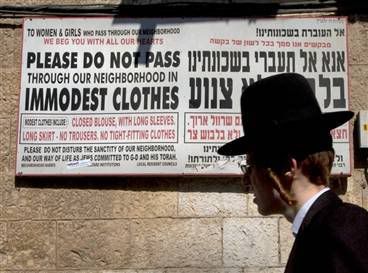 from
MSNBC
"In Israel's ultra-Orthodox Jewish community, where the rule of law sometimes takes a back seat to the rule of God, zealots are on a campaign to stamp out behavior they consider unchaste. They hurl stones at women for such "sins" as wearing a red blouse and attack stores selling devices that can access the Internet.
In recent weeks, self-styled "modesty patrols" have been accused of breaking into the apartment of a Jerusalem woman and beating her for allegedly consorting with men. They have torched a store that sells MP4 players, fearing devout Jews would use them to download pornography.

"These breaches of purity and modesty endanger our community," said 38-year-old Elchanan Blau, defending the bearded, black-robed zealots. "If it takes fire to get them to stop, then so be it."