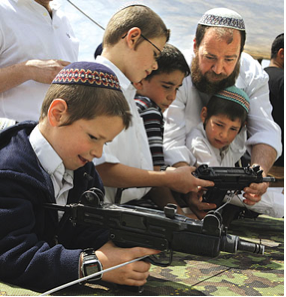 Doesn't a photo like this warm your heart? One can almost hear what is being said:
"Now little Jacob, remember to clean your sub-machine gun, whether you fire bullets into a Palestinian child or just the house!"

"Aron, always aim for a Palestinian's belly, that way, he'll take several hours to die!"

"Moshe, remember to toss a couple of grenades into any home you fire your machine gun into, don't be a putz and leave witnesses!"

"And always children, thank G-d for having given us this wonderful land, that was almost empty and will soon be, thanks to our American friends, Condi Rice and President Bush!"
Thanks to Kenny's Sideshow for the pic
http://kennysideshow.blogspot.com/2008/11/other-election-circus.html