Two brave souls, Reps. Bob Inglis (D-Mass.) and Stephen Lynch (R-SC) visited Occupied Palestine this week and saw first hand the utter destruction visited upon the world's largest open air prison and Israeli made concentration camp known as Gaza.
Call me cynical, but if these two run for re-election in 2010, I imagine the LOBBY will be pouring immense sums of money into their opponents campaign.
Inglis and Lynch committed the ultimate sin against the LOBBY and it's bastard creation, Israel. By actually seeing first hand the Israel death and destruction of Gaza, instead of relying on IOF talking points or a press release from the Israeli
"Ministry of Propaganda," AKA in Israel as the National Information Directorate
, they've put bulls-eyes on their backs which Zionists everywhere will use for target practice.
Pic of the one of the thousands and thousands of civilian targets flattened in Gaza by the "world's most moral army."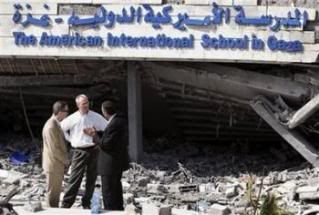 Lynch said he and Inglis, a Republican from South Carolina, visited a project run by Catholic Relief Services in a heavily damaged neighborhood and a tent camp where displaced Gazans have been living since the war ended on Jan. 18. They also visited the grounds of the American International School of Gaza, a U.S.-style school the Israeli army flattened during the offensive, saying militants launched rockets from its grounds.

Lynch said the destruction in Gaza was worse than he expected and said the world must find a way to address a "legitimate humanitarian crisis" in Gaza.
The world must? The world will sit on its thumbs. Israel is preparing to address this ongoing crisis in their own way, by launching another sadistic and depraved invasion of Gaza, compliments of their whack job PM, "Boom-Boom" Netanyahu.
We are a major cause of the disaster that has befallen Gaza. U.S. taxpayers supplied Israel, free of charge, with the jet fighters, the Apache helicopters, and the other sophisticated weaponry it used in Gaza.

One of the few Americans to visit described the scene in Gaza City as "decimation, one building after another collapsed into rubble." Gazan civilians figured prominently among the casualties, as Israel targeted residential buildings. As Israeli forces commandeered Gaza houses, they blew up nearby houses, to ensure against attack.
Not all were horrified at the level of destruction Israel visited upon Gaza, some gave thanks to their G-d for supplying so many women and children as targets
Maybe President Obama will comment on the Israeli's brutal tactics against Gaza civilians, except he's too busy hosting the first SEDER at the White House.
That must be music to the new Israeli PM, Bennie "Boom-Boom" Netanyahu. Psst, hey Obama, don't lick too many Matzo Balls!