Or at least the ones that survived the prolonged 75 minute attack of the Liberty by combined units of Israel's military are "anti-Semitic" according to the ADL. An attack using rockets, torpedoes,
NAPALM
and even going so far as to machine gun survivors trying to escape in life boats.
Over 800 holes from cannon fire larger than a man's fist were counted, in addition to the thousands of holes from .50 caliber machine gun fire.
34 US personnel MURDERED by Israel. Another 171 injured and to this day, Israel still lies about the reason(s) for the attack.
Survivors of the attack have been slandered as being anti-semitic when this is not at all the case. I have seen this slander repeated in many a book review or article dealing with the Liberty. Some slander has also come from the Anti-Defamation League. This group in particular has been known to suppress any thought contrary to its agenda of the day. As a result it has become the scorn of many Jews. In this case the ADL repeatedly sought to block coverage of the Liberty incident and even raised objections to memorials in honor of the victims. The Wisconsin Jewish Chronicle quotes one Howard Rosenburg as follows:

"The Anti-Defamation League of B'nai Brith (ADL) has questioned the motivation behind a June 8 White House ceremony honoring surviving crew members of the USS Liberty, a naval intelligence ship bombed by Israel aircraft during the 1967 Six Day War. Thirty-four American seamen died in the episode.... ADL hopes that the reason for the White House reception was simply to honor the Liberty members, not to give a stamp of approval to those seeking to malign Israel."
Look at these post attack photos of the USS Liberty and the USS Cole. The Cole was attacked in October 2000--October surprise?--in Yemen, allegedly by "Al Qaeda" types.
Look closely at these photos and then wonder why the blast holes look so similar and ask yourself if the "Al Qaeda" types came from Tel Aviv.
USS Liberty
USS Cole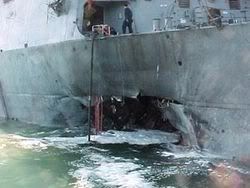 This is the type of free speech that the ADL is seeking to suppress and criminalize by their sponsorship of the repugnant
"Hate Crimes Act,"
that has been passed by the US House and is in the Senate, waiting for a rubber stamp approval to satisfy Jewish interests.
"We're surrounded by "anti-Semites," said Chicken Little
Spurious accusations about the
Liberty crew being anti-Semitic are everywhere, like this one in Wisconsin:
In 1987, the village of Grafton, Wis., decided to build a new library using only donated funds. Two brothers, Ben and Ed Grob, contributed $400,000. This entitled them to pick the library's name.

The elderly duo had read Ennes' book and were moved to honor the ship. They asked to name the new structure the USS Liberty Memorial Library.

"I was so choked up I couldn't talk," says former Grafton village president Jim Grant, a Navy veteran who knew the USS Liberty story. "I thought it was a beautiful and fitting tribute."
Grant also thought that the proposed name would not present a problem. "Well ... surprise, surprise," Grant says. "The opposition was overwhelming."

Angry outsiders falsely accused the townspeople of anti-Semitism.

"That was the disorienting part," says villager John Dickmann, who was involved in fund-raising for the library. "They tried to make it seem as if we were against the entire state of Israel because we planned to name our library after the Liberty."

"It had nothing to do with the state of Israel," Grant says. "This was a memorial to American servicemen."
With the anniversary of that day which will "live in infamy," June 8, 1967, we must not allow Israel to keep telling lies about their vicious and murderous attack on the Liberty.
Lies Israel has been telling for 42 years. Lying that they didn't know the USS Liberty was an American ship.
The
following exchanges are excerpts of testimony
from U.S. military and diplomatic officials given to Alison Weir, founder of "If Americans Knew" and author of American Media Miss the Boat:
Israeli pilot to ground control: "This is an American ship. Do you still want us to attack?"

Ground control: "Yes, follow orders."

"But sir, it's an American ship — I can see the flag!"

Ground control: "Never mind; hit it!"
And Israel has been "hitting" the USA ever since. Hitting us for an unlimited amount of money to support that Apartheid nightmare and for advanced weaponry, which our corrupt Congress gladly hands over to Israel who then reverse engineers the weapon, slaps a Yiddish sounding name on our stolen work and sells it to Communist China.