"JA, VE in Israel know how to handle those filthy 'Untermenschen,' JA. VE VILL cage them like animals and kill the rest, JA and VE get all the help, money and weapons VE need from those fools in America, JA."

"Now it's time for our lackey's in the Congress and Pentagon to do some more of our warring against Iran, JA. VE like it when you DUMMKOPF's send YOUR kids and spend YOUR money fighting our enemies and since we're greedy pigs, EVERYONE is our enemy, JA."

"JA, our people in the MSM will continue to scare the hell out of you fools with stories of al Qaeda while our agents on Wall Street rob you DUMMKOPF's of all your pension and retirement money, JA!"

"Now hurry up and obliterate Iran or the next time, VILL have our dual agents in the Federal Reserve and the Treasury really destroy your economy, JA!"
Germany 1940---------Apartheid Israel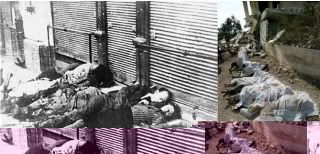 Any Questions?

"No Professor Dershowitz, pointing out Israel's horrific planned campaign of ethnic cleansing of Palestine and showing pics of Israeli atrocities is NOT 'anti-Semitic,' it's called showing facts on the ground and telling the truth, which some people have an aversion to, so don't try to hide and confuse the issue by calling people names."