Federal Reserve - Enemy of America
No other topic is more important and explains better the demise of America, than the saga of the Federal Reserve. To any objective citizen the conclusion is self evident. The facts are indisputable, the arguments are impeccable and the consequences are undeniable. So why will the public avoid facing the ultimate crisis of national survival?

The breadth of how confused the public has become and the extent of the disinformation about the cure for this treachery against the nation, is seen in the final inference by William Greider in his book, Secrets of the Temple subtitled "How the Federal Reserve Runs the Country."

"He offered to the unsuspecting public a scathing expose of the Federal Reserve System. His history was excellent, but his conclusion was treacherous. After having proven that the Fed was conceived as a weapon of the banking elite against the common man and having shown throughout his book that this is exactly the function it has always served, his conclusion was, not to abolish the Fed or even to make serious changes to it."

The essence of this fraud has been summarized in the classic -Billions for the Bankers, Debt for the People: The Real Story Of The Money Control Over America by Sheldon Emery

But even after all this evidence, the public still refuses to face the trepidation - that they are living within a controlled economic system that is ruled by elites, while the masses pay all the bills.

If people crave comfort in denial and solace in the company of weak willed citizens, America is surely doomed. There can be no intelligent debate about the merits of the Federal Reserve. It is a pure FRAUD. Fractional reserve banking is criminal. Public indebtedness, as a requirement for currency creation is the supreme Treason.
Source
The Federal Reserve System Is Not A Government Agency - It's A Privately Owned Cartel of Powerful Banks Protected By Law
The Federal Reserve Chairman decides to drop in and check on his subjects
This is what We the People can expect for generations to come, fighting and dying for the bankers while they pick our pockets and steal our wealth.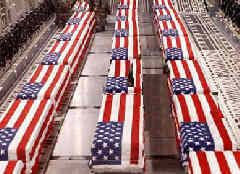 What do Americans get when one of their loved ones makes the ultimate sacrifice fighting and dying in the 'Wars for Wall Street and Israel?
They get their 401k savings accounts raided and the Wall Street banks in league with the Fed, loot the US Treasury and steal American's homes.
Growing Numbers Of Americans Landing In Shelters Due To Foreclosure