'aL Qaeda' of the Ozarks, AKA AQO, is now accepting applications to join our 'Hillbilly Brigade!'
An 'aL Qaeda' of the Ozarks strike team, along with their secret code names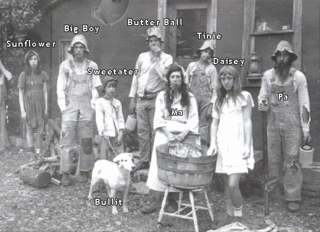 You must be of semi-sound mind and body and willing to give all to overthrow the world's Great 'Satan.'
Fluency in languages is desirable, but not necessary, as most of out other AQ success stories could only speak English or Yiddish.
You must be willing to travel for training to either Langley, VA or Tel Aviv, Israel.
NO passport necessary as we can get you on any flight anytime, anywhere.
AQ Central has decided to open an Ozarks branch to take advantage of ready manpower and the over abundance of 'loyal' American types who are willing to do ANYTHING to keep the 'Wars for Wall Street and Israel' hot, very hot.
You must be ready to learn a smattering of Arabic, so you can shout well-worn phrases that will get your targets crapping in their britches. And you must be willing to die in a staged incident that will make Americans scared out of their wits, but not to worry, your family members will be taken care of with money, lots and lots of money... or corn liquor.
Some of the CIA's most successful 'al Qaeda' types who went on to fame and fortune
'al Qaeda' of the Ozarks is a subsidiary of CIA Inc, which is owned by the Federal Reserve, which is part of NWO Consortium, which is controlled by the Bringers of Light Group.
If you think you have what it takes to join our team, call 1 800-666-1984 today!