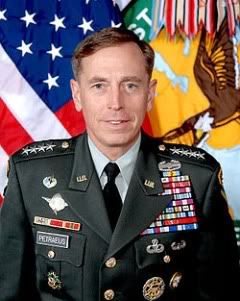 Washington--General David Petraeus, his Most Royal Majesty of the 'Wars for Empire and Israel' front today told the Pentagon brass he needed a bigger chest to hold and display all of his medals, awards and commendations.
Colonel John "Johnny" Gofer, HRM's top aide, said his majesty was distressed that he couldn't display all his shiny ribbons and medals at one time on his chest, so he was ordering a bigger one from supply.
"HRM Petraeus" thinks it's his duty to show all his loyal subjects, especially the ones on Senate and House committees, all of his 47 + medals HRM won by serving the greater good, namely the General's lust for more power," said Colonel Gofer.
"It's a proven fact that members of Congress and the press get all squishy inside when they see HRM's chest full of shiny objects, making them forget what questions they were going to ask, giving HRM a black check to spend all the money the General wants on weapons of mass destruction and letting HRM position himself for a run at the Oval Office," added Colonel Gofer.
At press time, there was no word on whether or not HRM was going to be
awarded the much sought after "ass-kissing little chickenshit" award.