In 2009,
2.8 million American families lost their homes to foreclosure.
In 2008,
3,000,000 American families lost their homes to foreclosure.
Another 9,000,000 million Americans are predicted to lose their homes in the next few years.
The solution? Move to Apartheid Israel and get a beautiful new home, built with your tax money on land stolen from the indigenous Palestinians!
Don't worry about those Palestinians getting 'uppity' and demanding their land back, the US Senate, House, Pentagon and the White House will make sure Apartheid Israel gets to keep everything it has stolen!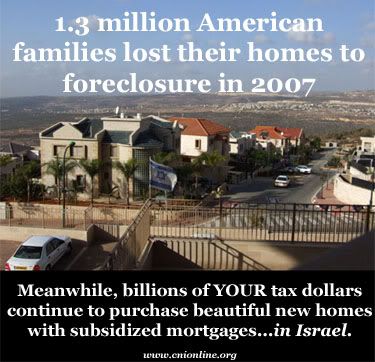 To all those American families that have lost their homes and are now living in tents, panhandling on the streets for spare change and digging thru trash looking for something to eat, be grateful and give thanks that your tax money is being given to support and prop up Apartheid Israel!
Housing continues to appreciate in Israel, average apartment in Tel Aviv worth around $500,000 dollars.
More Homeless Americans Living in Cars and Campers