You're in luck! MegaBucks Hagee is taking his snake oil act to Jerusalem, why not join John as he picks up some pointers--and a few shekels in
Occupied Jerusalem, March 9-10!
Don't have some of that 'prosperity' gospel money to jet over to Apartheid Israel? No problem, get your Muslim hatred on at one of John Boy's
"Night to Honor Israel."
John can certainly do better than that other rabid Christian Zionist bible-thumper
Jerry Falwell, who was given a private jet by Israel.
When all else fails, John Boy can always pray and hope for a New World Order, led by Jesus Christ?? Will Jesus descend on a mushroom cloud or is he already in the ME, embedded with some Blackwater/Xe assassins?
"Honest John" showing his flock his 'Stairway to Heaven!'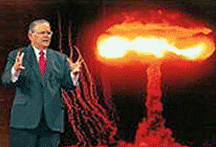 John Hagee Scandal - Heresy, Fraud, Adultery and Hate

Hagee takes the (fruit)cake:

John Hagee has a $2.1 million dollar 7,969 acre ranch with not one, but FIVE lodges, a managers house, a gun locker, a smoke house, a skeet range and three barns. In the year 2001, John Hagee received $842,000 in salary and $414,485 in benefits making him one of the best paid men on earth in ANY field. For comparison, Billy Graham (probably the most well known living religious figure in America), took only $174,000 in compensation that year.
Not only does Pastor John and his wife Diana Hagee own that sprawling ranch, but they also have a 5,275 foot, 6 bedroom mansion in one of San Antonio's most exclusive gated communities (The Dominion). The house is appraised at $700,000.

So who is monitoring Pastor John Hagee and his largesse? Who ensures that the millions of dollars that gullible grandmothers give him is spent to further spread the gospel of Jesus Christ? 3 of the 4 Directors who monitor the board of his nonprofit GETV foundation are his direct family members- his wife, Diana; his son, Matthew; and himself.

What does Pastor John Hagee have to say about his income and wealth?
"I deserve every dime I'm getting." John Hagee.
(Some saying about a camel and the eye of a needle comes to mind)
"Christians don't steal or lie, they don't get divorced or have abortions." – John Hagee
Except that righteous man of Gawd, Hagee, who had an adulterous affair with one of his flock and finally dumped and divorced his first wife.
Jerusalem Countdown Armageddon - New World Order, War Israel, End world, Palestinian State, Gog Magog. Road Map