The KKK then, back in the late 19th Century
Maybe that's what our country has devolved into, one large KKK group, riding out into the ME, the Horn of Africa and SW Asia, killing the dusky skinned 'savages' we find so loathsome.
Others we just torture and others, we disappear into oblivion. Most of the rest live in abject poverty, mostly due to our junkie like thirst for their oil and our subservience to Apartheid Israel.
Damn good thing we're a 'Christian' nation, or our wrath could really get out of hand, making us want to kill Muslims for decades, over a false-flag committed by American traitors and Zionist saboteurs.
Maybe not all is lost, as some brave souls still choose to fight against our never-ending war mongering against the Muslim world.
The KKK now, dressed in all its glory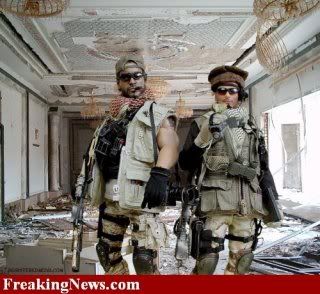 Binghamton mayor to put 'cost of war' sign on City Hall

The mayor of Binghamton, a city with its share of economic torment, said he plans to hang an electronic "cost of war" sign outside City Hall to drive home how much taxpayer money is being spent on the wars in Iraq and Afghanistan.

Taxpayers in this city of 42,000 residents, 140 miles northwest of New York City, "have paid almost $140 million toward the cost of these two wars since 2001," Ryan said in a telephone interview. "In the city of Binghamton, that would pay for 2,675 public safety officers for one year.

The $6,000 sign being installed next week with his approval is paid for by the Broome County Cost of War Project, a local peace activist group with 135 members that promotes the peaceful resolution of global conflicts, said spokeswoman Susan McAnanama.

Why are we spending so much money on war? Why are our local arts groups fighting over the crumbs? Why does half our city live below the poverty levels? These are the questions that I want to raise. ... We're going to put the facts up, and let people ask the questions themselves."
Time to stop these never ending 'Wars for Wall Street and Israel' before we perish from stupidity, greed and arrogance.