They're concerned that they might actually have to start paying appropriate taxes on their filthy lucre, much of it made from wars, and more wars.
Some are even threatening to
move out of the USA if taxes are raised
, and one of their 'think tanks,'
the Business and Media Institute is rallying the rich around the caviar.
Well, I say, don't let the door hit your Dolce & Gabbana asses on its way out.
The Wealthy Elite Enjoying Some Foie Gras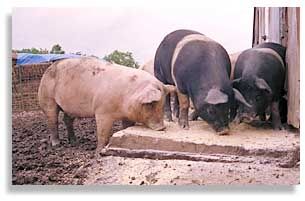 You wealthy pigs already own most of the wealth
and still you bitch that you pay too much taxes. Duh, go figure.
A good argument could be made that America's best time of prosperity for all was back in the 1950's and early 1960's, when there were plenty of good paying jobs that paid enough so the husband/father would be the only one that worked outside of the home and made enough to buy a house; supply his family with all their needs and maybe even have a little vacation home on some out of state lake.
Dad made enough so Mom could stay home and raise the children. And the wealthy elite were still wealthy, but they paid a fair share of taxes, as did corporations.
Not anymore. Taxes on the upper crust have been cut severely and
most corporations pay NO tax, despite TRILLIONS of dollars of sales,
leaving the burden to fall on the working stiffs. Both Mom and Dad work at least one full time job and many have part-time jobs to make ends meet and the kids are farmed out to be herded like cows in some factory like day care setting.
A lot of your wealth has been made from investing in death and destruction, with the poor and middle-class (what's left of it) fighting manufactured wars based on false-flags.
So you wealthy elitist snobs, you've already
moved over 11 TRILLION of your assets offshore to avoid paying taxes
, so go ahead and move to be closer to your loot, we won't miss your whiny ass ways.
But fear not, as your cries of desperation are being heard and acted upon.
SCOTUS frees Corporate, White Collar Criminals, "Those Poor Dears Have Suffered Enough," says Chief Justice.