Obama endorses Netanyahu as "man of peace"
(...like a 'piece' of Jordan; a 'piece' of Syria; a 'piece' of Lebanon; a'piece' of Iraq and whatever pieces are left in Gaza Death Camp.
President Barack Obama on Tuesday praised Israeli Prime Minister Benjamin Netanyahu as a man who "wants peace" and is "willing to take
risks for peace."
(Israel showing it's "light unto the world")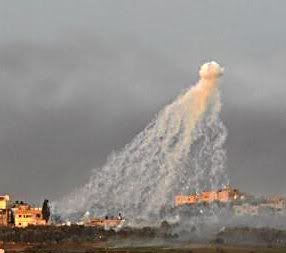 He did so following a White House meeting five weeks after the May 31 raid on the Mavi Marmara Gaza aid convoy, in which Israeli forces murdered eight Turkish activists and a dual Turkish-US national. The White House meeting was also on the eve of another round of Israeli settlement expansion on the West Bank.
(Some 'peace' loving Israeli's with messages of love)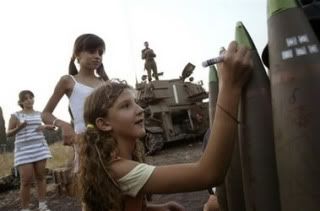 On the day of the meeting, a report by the human rights group B'Tselem said that Jewish settlements with 300,000 people now control more than 42 percent of all land in the West Bank, including 21 percent of all privately owned Palestinian land
.
(More 'peace' initiatives from Israel)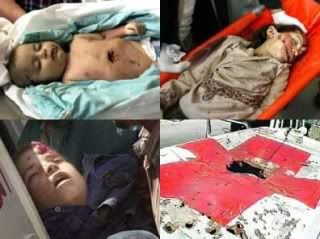 Obama went to extraordinary lengths in his efforts to rehabilitate Netanyahu and Israel in the face of popular anger internationally over its blockade of the Gaza Strip and the suffering this inflicts on the Palestinians. He said nothing about the continued construction of Jewish settlements in East Jerusalem and did not urge an extension to the partial freeze.
In an extraordinary Freudian slip, Obama also told reporters, "We strongly believe that, given its size, its history, the region that it's in, and /the threats that are leveled against us—against it/, that Israel has unique security requirements. It's got to be able to respond to threats or any combination of threats in the region. And that's why we remain unwavering in our commitment to Israel's security." [Emphasis added]
(... matter how many American kids fighting and dying for thte greater glory of Zionism.)