The Wall Street Gangsters stole trillions out of our economy, and their punishment was to be rewarded hundreds of billions of OUR money.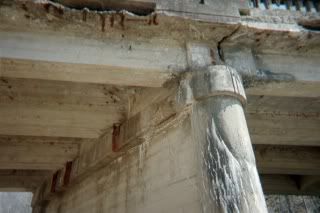 Israel has received and continues to receive billions and billions each year in cash and billions and billions more in free weaponry, plus more money & an anti-missile weapon shield, while the USA remains open to attacks, since our cowardly and craven Congress prefers to fund Israel and to hell with the USA.
Our war machine, which is sending our kids off to fight and die for Zionism and Apartheid Israel, gets trillions.
What does America get?
Doodley Fucking Squat.
I randomly picked out different bridges in the county I live in and drove there to take pics from the underneath side. The pics tell the horror story of what is happening to America while we constantly chant for more wars to protect institutionalized hate, apartheid and the ongoing genocide of Palestine, all for the greater glory of Zionism.
From the topside, the bridges don't look this bad, as a little new asphalt and some paint will cover a world of sin. But underneath, all of them had similar problems: Cracked and missing concrete, Exposed rebar--rolled steel that helps hold the concrete together--that was rusting and large cracks in the bridge floor.
These bridges are around 70 years old, built during the last Federal Reserve engineered Depression in the 1930's. It's obvious to anyone they need to be replaced and replaced NOW, but the USA doesn't have time to take care of its own, we have to get ready for the next war against Iran.
Check out the rural bridges in your county and see what you see.