When GW Bush Used Terror Tactics to Get Re-Elected,
Code Pink
and the
'Liberal' Media Raised Hell
, but now that their boy Barry Sotero has lied and conned his way into POTUS, well, that's a different story. We'll just give him some time, he'll come around, right?
Ditto for that 'progressive' rag, the "Nation" and its editor, Katrina vanden Heuvel,
who says Obama doesn't need to change.
Katrina, picking and choosing select parts of Obama's warped plans and sadistic agenda that you like and ignoring the rest is like saying "Syphilis must be eradicated, but Gonorrhea is OK!"
Pics of YOUR Tax Dollars at Work, Butchering Children in Pakistan


"Violates your 'terms of use?' Fuck you, murdering children violates MY terms of sanity.Original pic of Pakistani children MURDERD by U.S. drones available here
Pics of YOUR Tax Dollars at Work, Butchering Children in Lebanon, Palestine and Iraq


Horrific images and cold hard facts about the Israeli perpetuated, American financed Muslim holocaust that a large majority of Americans will never see on pseudo-news outlets like the 'Cartoon News Network' and FUX, since they are Zionist owned and operated propaganda outlets designed to fill American minds with Jewish lies and distortions to keep us supporting murderous Apartheid Israel.... and to poison our minds into thinking that celebrity news and sporting contests are actually important and deserve our unwavering attention.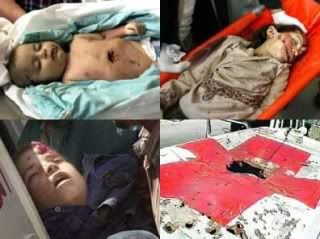 With the lunatics in charge of the Israeli government following THE quasi-official policy of terrorizing Palestinians into fleeing their indigenous homeland and killing the rest, we American should be ashamed to be a co-sponsor of this Muslim holocaust.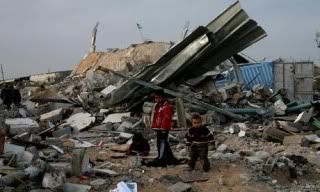 What if this baby was your child?

If these now lifeless forms were YOUR kids, what would you do? Take a nonchalant attitude and just say, "Shit Happens" or get mad as hell and seek revenge?
When Hypocrites Pray
Do you think that Chris from Empire Burlesque may be on to something when he quotes from Johann Hari?

Imagine if, an hour from now, a robot-plane swooped over your house and blasted it to pieces. The plane has no pilot. It is controlled with a joystick from 7,000 miles away, sent by the Pakistani military to kill you. It blows up all the houses in your street, and so barbecues your family and your neighbours until there is nothing left to bury but a few charred slops. Why? They refuse to comment. They don't even admit the robot-planes belong to them. But they tell the Pakistani newspapers back home it is because one of you was planning to attack Pakistan. How do they know? Somebody told them. Who? You don't know, and there are no appeals against the robot.

H/T to Beulahman's Revolt
The French raise hell when the bankster gangsters try and fuck them and the Brits think they need to cut their military spending and what does the USSA say?
A recent increase in US drone attacks in Pakistan is linked to a suspected al-Qaeda plot to attack European targets, Pakistan's US envoy says.
But not everyone has become a full-blown moron, wearing the IDIOT cluster badge!
A US Terror Alert issued this week about al-Qaida plots to attack targets in Western Europe was politically motivated and not based on credible new information, senior Pakistani Diplomats and European Intelligence officials have told the Guardian..
NATO official: 'Bynjamin' Laden living comfortably in Pakistan
Yes, 'Bynjamin' Laden is living rather comfortably, SIX FEET UNDER.
President Sotero is barely in office when he orders the murder of Pakistani civilians