Can You Spot the Difference in These Two Photos?
First, a picture from the
May 12, 2010 crash Afriqiyah Airways Airbus A330-200.
The plane from Johannesburg to the Libyan capital crashed while attempting to land at 6am local time,

showering wreckage over a wide area of scrubland. Libyan TV footage showed rescue workers and officials, many wearing masks, picking through the debris. Two were pictured carrying a body in a sheet away from the site of the crash

.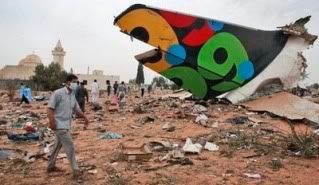 Transport Minister Mohammed Ali Zaidan said 96 bodies have been recovered from the wreckage.
Now, a picture of the
Flight 93 Shanksville, PA 9/11 crash
"It was as if the plane had stopped and let the passengers off before it crashed," said Somerset County Coroner Wallace Miller.
Hmm, there's something missing, but I can't see the forest for all the damned TREES!
H/T to Dr. Judy's
"How It Was Done 9/11"