Poor Little Rich Boy 'Gussie's' mansion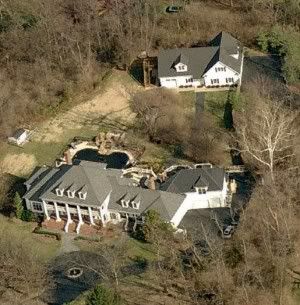 Yep, they shore be worried about that girl dying....
911 Call Came 42 Minutes After Body Found at Busch Mansion
That's about enough time to talk to your lawyers, get 'Gussie' away from the crime scene and have the staff practice repeating their concocted story...
Woman found dead at home of Anheuser-Busch beer heir August Busch IV

A 27-year-old aspiring model was found dead earlier this week at the gated suburban St. Louis mansion of former Anheuser-Busch CEO August Busch IV, 46.
Police and the St. Louis County medical examiner's office on Thursday identified the female victim as Adrienne Nicole Martin of St Charles.

Friends told the Post-Dispatch the pair had been dating for several months. It is not clear if Busch was home at the time her death.

Art Margulis, an attorney for Busch, said Martin was visiting the home, and added that there was 'absolutely nothing suspicious' about Martin's death.

Busch was chief executive at Anheuser-Busch from 2006 until the maker of Budweiser, Bud Light and other beers was purchased by InBev in 2008.

The $52 billion merger created the world's largest brewery. Busch remains a member of the board of directors for InBev.
The Post-Dispatch reported that Busch and his wife of 2½ years Kate, who was sixteen years his junior, divorced in 2009.

This is not Busch's first brush with scandal.

In 1983, Busch, then a 20-year-old University of Arizona student, left a bar with a 22-year-old woman. His black Corvette crashed and the woman, Michele Frederick, was killed.

Busch was found hours later at his home. He suffered a fractured skull and claimed he had amnesia. After a seven-month investigation, authorities declined to press criminal charges, citing a lack of evidence.

His passenger flew through the sunroof, and was killed in the accident. Busch walked or crawled from the scene of the accident without informing the police. Police found him at his Tucson townhouse over four miles away by River and Campbell, eight hours later with blood still on his body. Manslaughter charges against Busch were eventually dropped after evidence (blood and urine taken from Busch the day of the accident) was lost or damaged.

Busch was arrested again in 1985 after leading police on a high-speed car chase.

He was accused of intentionally trying to run over two officers

with his Mercedes.
Kill, steal and lie.
Pillage, loot and plunder with impunity and without fear of prosecution.
Whether you're one of those "Too Big to Fail" Wall Street banks or some Zionist lackey that told thousands of lies about 9/11 and Iraq and Afghanistan and Iran and..
It doesn't matter, thanks to your connections, wealth and most likely, skin color.
You, like 'Gussie' will remain immune from any prosecution.
This is the 'wealthy elite's' way of living.