Tel Aviv
-
Rita Katz, spokesperson
for the 'al CIA DUH' world-wide franchise, issued a press release today outlining AQ's 2011-12 Tour dates.
'al CIA DUH's' upcoming tour, will be focusing on the 'Dark Continent,' Africa, for reasons to be explained later. Ms. Katz's release stated she received these tour dates thru a
clairvoyant hired to contact Bin Laden
so he could update my
SITE 'Sayanim'
advertising agency on AQ's plans for this 'bombshell' tour.
Bin Laden hinted at some tour stops, mostly focuing on Africa's Gulf of Guinea region, with shows in Ghana; Equatorial Guinea, Gabon, Congo Republic and Nigeria and promised these shows would be 'explosive,' guaranteeing
"Shock and Awe"
for the
people living in those regions and to expect the usual 'teasers' like IED's and drugged 'suicide' bombers blowing up mosques and market places
to let the locals know that the
"Wanted: Dead or Alive"
2011-12 'al CIA DUH' show was soon to be appearing.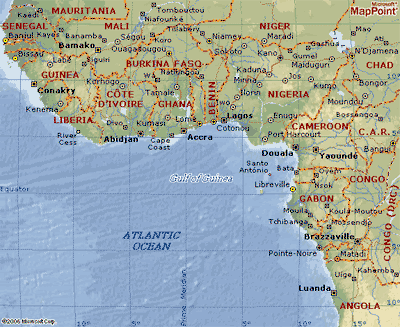 Since their manager, Richard the
DICK
Cheney is on leave to have an operation that will insert a heart into the
'DICK,'
they have hired another, a
Barry Sotero
. Mr. Sotero said that as in past appearances in Iraq, Afghanistan and Yemen,
some of the opening acts will be Israel's MOSSAD, America's CIA and those frisky mercs from "Blackwater," now known as "Xe.'
The "Wanted: Dead or Alive" tour's financing as in the past, will be the New York branch of the Federal Reserve.
At the time of this press release, there were rumors that
'Lucky' Larry Silverstein
& Frank Lowy's
'Golani Brigade'
would make an earth-shattering appearance, but this could not be confirmed.
Reporting for
Holocaust™
news, this is Wolfie Blitzoid.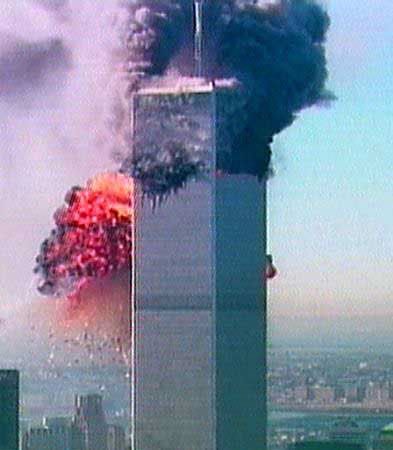 Militarization Of Energy Policy: U.S. Africa Command And Gulf Of Guinea

With 4.5 percent of the world's population, the U.S. accounts for approximately 30 percent of crude oil consumption. Although the world's third largest producer of crude, it imports over 60 percent of what it consumes (12.4 of 20.7 million barrels it uses daily). A decade ago 15 percent of those imports came from the Gulf of Guinea region on Africa's Atlantic Ocean coast, mainly from Nigeria, and it is projected that the proportion will increase to 25 percent in the next four years.

As is customary in regards to American foreign policy objectives, the Pentagon was charged with taking responsibility. It immediately went to work on undertaking three initiatives to implement U.S. energy strategy in the Gulf of Guinea: U.S. Africa Command, the first overseas military command inaugurated since 1983.

In recent weeks Ghana joined the ranks of African oil producers, pumping crude oil for the first time from an offshore field in the Gulf of Guinea.

"The Jubilee oil field, discovered three years ago, holds an estimated 1.8 billion barrels of oil, and will begin producing around 55,000 barrels per day in the coming weeks. Oil production is expected, however, to rise to about 120,000 barrels over the next six months, making the country Africa's seventh largest oil producer."

"The Gulf of Guinea increasingly represents an important source of oil, with the US estimating that it will supply over a quarter of American oil by 2015. It has already sent US military trainers to the region to help local navies to secure shipping.

"Nearby Equatorial Guinea, Gabon and Congo Republic are already exporting oil from the Gulf, while Liberia and Sierra Leone remain hopeful of joining the club."

Chinese companies are expanding oil exploration in the African nation of Chad and are embarked on a program to build the country's first refinery and a 300-kilometer pipeline, a U.S-led consortium has been extracting oil in the south of Chad and sending it by pipeline through Cameroon to the Gulf of Guinea, paralleling U.S. strategy in the Caspian Sea Basin vis-a-vis Russia and Iran.
U.S. naval vessels, troops and major military officials have been in Gulf of Guinea littoral states continuously, solidifying relations with Liberia (where the Pentagon has built a military from scratch), Ghana, Togo, Benin, Nigeria, Cameroon, Equatorial Guinea, Gabon, the Republic of Congo (Brazzaville), Angola, and Sao Tome and Principe.

In 2005 the Washington, D.C.- based Center for Strategic and International Studies' Task Force on Gulf of Guinea Security released a report reiterating and updating U.S. strategy in West Africa which stated that "The Gulf of Guinea is a nexus of vital US foreign policy priorities."

The Task Force consisted of "oil executives, academics, diplomats and retired naval officers under the chairmanship of Nebraska's Senator Chuck Hagel and received briefings from serving US ambassadors, oil companies, the CIA and US military commanders."

"Just a few years ago, the U.S.military was all but absent from the oil-rich waters of West Africa's Gulf of Guinea.

"This year, it plans to be there every day.

"Africa — including Algeria and Libya in the north — supplies the U.S. with more than 24 percent of its oil, surpassing the Persian Gulf at 20 percent, according to statistics from the U.S. government's Energy Information Administration. Of that amount, 17 percent comes from the Gulf of Guinea and Chad, which runs a pipeline to the Atlantic Ocean through Cameroon."

"Curiously, the newly formed NRF [NATO Response Force] carried out its first exercise code named STEADFAST JAGUAR in Cape Verde, here in West Africa, from 14-28 June 2006."

The Ghanaian oil exploitation is run by a consortium led by Tullow Oil plc, which is based in London and has 85 contracts in 22 countries.