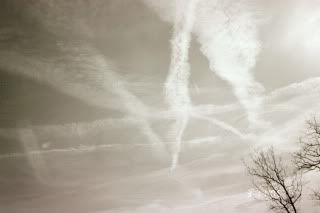 Makes one pause and reflect.
I live in the SW Missouri Ozarks and before the Fed and their gangster buds at those "
Too Big to JAIL
" Wall street casinos planned, then deliberately executed the economic crash of our economy and much of the world, to cover up their massive theft of trillions of dollars and gain more control over our lives, there was a fair amount of commercial airliner traffic in this area.
Which started slowing down by late 2007 and damn near ceased completely by late 2008, so this pic, taken in March of 2009, is interesting.
There's at least six, maybe seven
jet contrails
in the pic, which makes one wonder why so many jets had to fly in the same air space.
I don't believe in Chemtrails since it's difficult to see how a jet, flying at 500 MPH at 25,000 feet, could disperse some type of mind-altering chemical and reach its intended target(s) thru all those cross-winds and clouds.
I'm not saying it can't be done, since our government has been hijacked by a crowd of vicious thieves, liars, traitors and mass-murderers that are capable of ANYTHING and would stop at NOTHING in order to stay in power and gain more control over our lives.
But why go to all that trouble of using Chemtrails? Wouldn't those alleged mind-altering chemicals being dispersed affect
US
and
THEM?
If so, do the PTB go to a secret lab and get inoculations that protect THEM and their families against that crap?
Besides, every American home has at least one, some two and many three electronic Chemtrail dispensing gizmos in their house, that are available 24/7, 365 at the flick of a switch.
Those are TV's which spew out a non-stop toxic brew of lies, distortions, psyops and brainwashing material, which seem to be doing a great job. Look at how popular FOX News is with Americans.
Look at how many still believe the '9/11 Omission Commission' report and in a poll taken last Fall, 72% believe Bin Laden is still alive.
And even though the budget needs to be trimmed with a chainsaw, look at how many don't want to touch the bloated Pentagon budget.
Plus, nearly all
Americans are forced to drink fluoridated water
, which has been shown to change your DNA and causes damage to your body's immune system.
If you've ever watched C-Span, you'll notice that when Congress has one of those 'dog and pony' shows, where they pretend to be investigating something, nearly everyone on the panel and all of the Senators or Reps are drinking
BOTTLED
water, not tap.
Between the toxic effects of TV and fluoridated water, why go to all that trouble of using Chemtrails?
Pink Floyd - "Us And Them"
Us, and them
And after all were only ordinary men.
Me, and you.
God only knows it's noz what we would choose to do.
Forward he cried from the rear
And the front rank died.
And the general sat and the lines on the map
Moved from side to side.
Black and blue
And who knows which is which and who is who.
Up and down.
But in the end it's only round and round.
Haven't you heard it's a battle of words
The poster bearer cried.
Listen son, said the man with the gun
There's room for you inside.

I mean, they're not gunna kill ya, so if you give em a quick short,
Sharp, shock, they wont do it again. dig it? I mean he get off
Lightly, cos I would've given him a thrashing - I only hit him once!
It was only a difference of opinion, but really...i mean good manners
Don't cost nothing do they, eh?

Down and out
It can't be helped but there's a lot of it about.
With, without.
And who'll deny it's what the fightings all about?
Out of the way, it's a busy day
Ive got things on my mind.
For the want of the price of tea and a slice
The old man died.
A Voice In The Wilderness:
Do Not Let The Establishment Divide Us – We Are All Americans