A pyroclastic flow, also known scientifically as a pyroclastic density current is a fast-moving current of extremely hot gas (which can reach temperatures of about 1,000 °C (1,830 °F) and rock, which travel away from a volcano at speeds generally as great as 700 km/h (450 mph).
Photo of one of WTC Towers imploding due to an explosion
Video of the explosions that wracked and tore apart Mt. Saint Helens volcano.
A photo of a Mayan volcano gone active: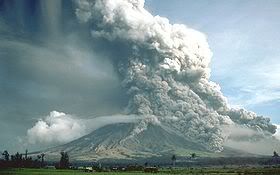 Another photo of the dust clouds that enveloped Manhattan:
And another:
Notice how the sickly looking grayish smoke is evident at both Mt. Saint Helens/Mayan Volcano and at 'Ground Zero' and how the WTC dust clouds spread out like the dust clouds from the Mt. Saint Helens blast?
Guess that makes sense, since both Mt. Saint Helens and the WTC Twins were destroyed by explosions from within.
Let's see,
weren't we told
that the jet fuel had reached an u
nbelievable temperature in the 'Twins' of 1,800 degrees, causing the steel to melt?

And a pyroclastic flow from a volcano can reach over 1,830 degrees?
The WTC explosions were so violent, that people nearby were lifted off their feet and tossed dozens of feet away:
There are reports of people being picked up and carried distances by the South Tower dust cloud, which felt solid. New York Daily News photographer David Handschuh recalled:

Instinctively I lifted the camera up, and something took over that probably saved my life. And that was [an urge] to run rather than take pictures. I got down to the end of the block and turned the corner when a wave-- a hot, solid, black wave of heat threw me down the block. It literally picked me up off my feet and I wound up about a block away.
A building collapsing on its own weight doesn't generate that kind of energy, but one that was brought down with explosives would.
Around Mt. Saint Helens, tens of thousands of tons of melted rock, blasted granite and limestone had been pulverized into dust, just like the thousands of tons of reinforced concrete at the WTC that had been melted and pulverized into dust.
9/11 FDNY Chief of Safety, Albert Turi Describes Bombs And Secondary Explosions Killing RespondersOne of the secondary devices he thinks that took place after the initial impact he thinks may have been on the plane that crashed into one of the towers. The second device - he thinks, he speculates - was probably planted in the building. ... But the bottom line is that he, Albert Turi, said that he probably lost a great many men in those secondary explosions, and he said that there were literally hundreds, if not thousands, of people in those towers when the explosions took place." Rudolph Guiliani said in a press confrence shortly after the buildings fell that the gas was turned off to that part of the city.