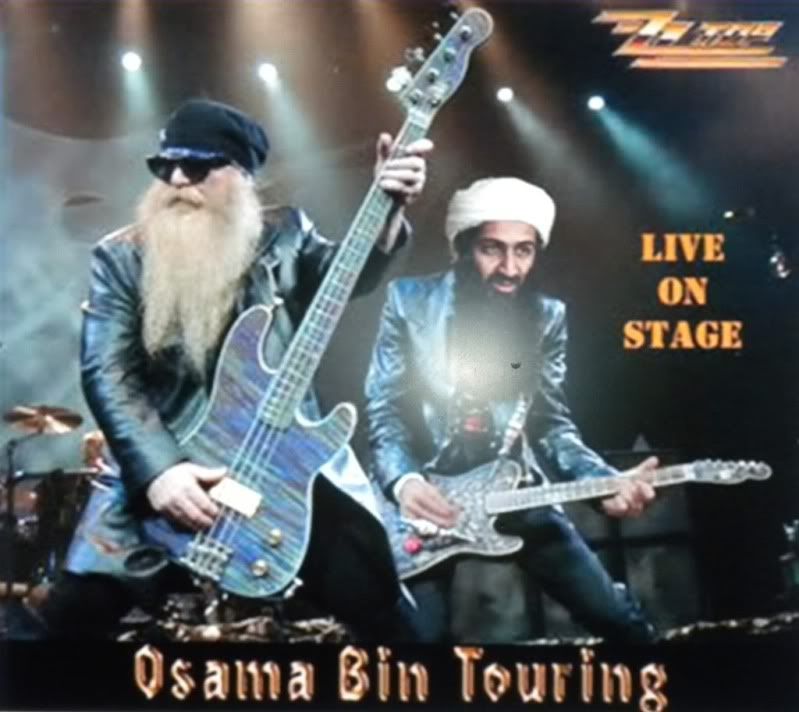 Pentagon--Following up their smashing nearly 10 year run with "Bin Laden--The Musical" the Pentagon announced today that it would be taking Bin Laden on the road to appear on the very popular TalmudVision (TV) show, "American Idol.'
"This Bin Laden thing has been so
lucrative for our expanding Empire
and has increased the flow of money to our Swiss bank accounts so much, the White House and the DOD decided it would be a shame to lose such a valuable asset, so BL has graciously agreed to appear on
"American Idol"
and give couch potatoes what they really want, a good scare."
Bin Laden will be joining J Lo, Steven Tyler and Randy Jackson to help judge future Pentagon created terrorists in this 10th season of the show.
As always, Bin Laden will be coached from the sidelines by 9/11 cover up artist, FBI head Robert Mueller, a reward to Mueller for his excellent service in helping keep the lies covering up 9/11 alive.
Bin Laden will also help "American Idol" develop another
9/11 'Mastermind'
to add to the three already named.
The choice to place Bin Laden on "American Idol" was a contentious one, as some in the White House wanted the Pentagon to use their holographic image technology and have Bin Laden appear over the USA, issuing fatwas from the beyond and scaring the hell out of gullible Americans with solemn pronouncements about upcoming false flags to be launched against Americans by the CIA and Israel's MOSSAD, but cooler heads prevailed and BL was chosen to appear on Zionism's favorite psyops medium, TalmudVision.
The Pentagon spokesperson let slip that one of BL's guests would be
Pentagon employee Anwar al-Awlaki
, who was wined and dined at the Pentagon shortly after 9/11.
"We can't say what BL might do on "American Idol," but rest assured, it will be a BLAST," said an unnamed Pentagon spokesperson.
---------------------------------------------------------------------------------------------