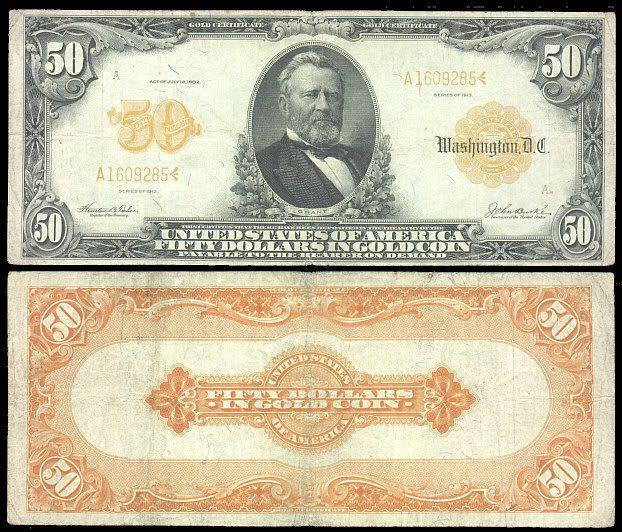 A gold certificate in general is a certificate of ownership that gold owners hold instead of storing the actual gold. It has both a historic meaning as a US paper currency (1882–1933) and a current meaning as a way to invest in gold.
Gold certificate

The gold certificate was used from 1882 to 1933 in the United States as a form of paper currency. Each certificate gave its holder title to its corresponding amount of gold coin. Therefore, this type of paper currency was intended to represent actual gold coinage. In 1933 the practice of redeeming these notes for gold coins was ended by the U.S. government. When U.S. paper money was modernized in 1928, gold certificates ceased to be issued.When the U.S. was taken off the gold standard in 1933, gold certificates were withdrawn from circulation. As noted above, it was illegal to own them.
'Modernized' in 1928 and were no longer issued? Just in time for the Crash of '29
.....But they were still issued, as you'll see.
Gold certificates are very much like the world's first-ever paper bank notes.

Starting in the 17th century, gold certificates were issued by goldsmiths in London and Amsterdam to customers depositing gold bullion into their safe-keeping. These gold certificates then acted as proof of gold ownership. In time, the certificates were passed from hand to hand just like cash payments, without the hassle of having to move the gold bullion itself.

In the mid-19th century, the US Treasury began to issue gold certificates that could be exchanged for gold from its vaults. These gold certificates circulated as money until 1933, when the US government banned private gold ownership inside the United States.
Thank Jehovah for the Federal Reserve!!
$100,000 U.S. Gold Certificate

During the early 1930s, the United States and the rest of the industrialized world experienced an economic depression. In 1934, the United States continued its movement toward removing its currency from the gold standard. It even became illegal to possess gold coins or gold-based currency until Congress relented somewhat for collectors. The Gold Certificate Series of 1934 poses a slight puzzle since the United States was off the gold standard by 1934. The $100,000 note shown here was not intended for general circulation but was used as an accounting device between branches of the Federal Reserve. This $100,000 note was the highest denomination ever issued by the United States.
Before the computer age, this was the way to move your wealth offshore.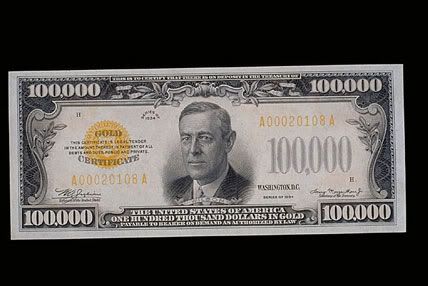 To be used to ship wealth (Most of it stolen) offshore and deposit in some tax-free haven that 'Uncle Sam' knew about, but looked the other way when needing more income, just like today.
Back during the first Federal Reserve engineered 'Great Depression,' most Americans had trouble scraping together $100, let alone ONE HUNDRED THOUSAND DOLLARS.
Are these notes now sitting in our gold depository at Ft. Knox, which no one wants to audit, because the gold bars seem to have disappeared and replaced with more Fed 'toilet paper'?They'll tell Grandma and Grandpa to "Piss off, we need your Social Security money for OUR own deviant purposes."
And tell the poor with jobs that don't have a benefit package that includes health insurance or the millions and millions of Americans who lost their job, thanks to the deliberately engineered Federal Reserve 'Great Depression, Part II" to
"Fuck off, you loafers, get a job, NO more Medicaid, we have to keep cutting taxes on our rich and VERY rich gazilliionaires and corporations that really don't pay any taxes, but we need to kiss Wall Street ass to get those BIG bribes... sorry, I mean to say 'campaign' donations."
"Sorry, gotta run, that was the doorbell which means my Wall Street buds AGAIN sent over my favorite $10,000 a night call girl!!!!"
"Hot damn, I just LUV being a 'public' servant."
Money As Debt-Full Length Documentary
Money As Debt is a fast-paced and highly entertaining animated feature by artist & videographer, Paul Grignon. It explains today's magically perverse DEBT-MONEY SYSTEM in terms that are easy to understand.

Check out his website at this link

Money is a new form of slavery, and distinguishable from the old simply by the fact that it is impersonal, there is no human relation between master and slave. Debt- government, corporate and household has reached astronomical proportions. Where does all this money come from? How could there BE that much money to lend? The answer is...there isn't. Today, MONEY IS DEBT. If there were NO DEBT there would be NO MONEY. If this is puzzling to you, you are not alone. Very few people understand, even though all of us are affected.
Money As Debt II-Promises Unleashed explores the baffling, fraudulent and destructive arithmetic of the money system that holds us hostage to a forever growing DEBT... and how we might evolve beyond it into a new era.

Bailouts, stimulus packages, debt piled upon debt...Where will it all end?
How did we get into a situation where there has never been more material wealth & productivity and yet everyone is in debt to bankers?
And now, all of a sudden, the bankers have no money and we the taxpayers, have to rescue them by going even further into debt!

The Federal Reserve's illegal, has been from the beginning, since you CAN'T change the Constitution by merely passing a law.

Abolish the Fed and use the RICO laws to take BACK our wealth.

Abolish the Fed and watch these 'Wars for Wall Street and Israel' stop.
----------------------------------------------------------------------------------------