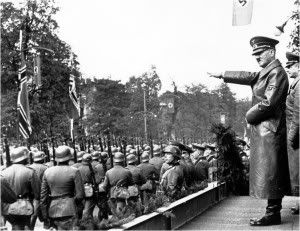 A decade after the 9/11 attacks, Americans live in an era of endless war

When war is 'normal'

Most soldiers and Marines in today's military have seen their entire careers consumed by combat. During last year's 9/11 anniversary, Lt. Col. Christopher M. Coglianese accompanied his second-grade daughter on her school's annual Freedom Walk outside Fort Hood, Tex.

"Basically the whole student body walks around the grounds of the school wearing patriotic garb and carrying signs about freedom," Coglianese recalled in an e-mail from Iraq, where he is on his third tour.

The children in his daughter's Skipcha Elementary School class proudly told him how many times their fathers had deployed and where they had fought.
Photo of Obama saluting fallen troops questioned

The image millions of Americans saw after the bodies of 30 fallen troops arrived at Dover Air Force Base in Delaware Tuesday was of a silhouetted President Obama in somber salute.

Now news organizations are wondering why the White House was allowed to take and distribute that photo when media covering the event were barred from taking any.

Even the Pentagon itself didn't take photos. But the White House did, posting it on its website and sending it out so that newspapers could portray their president saluting. None of the cases used to carry troops killed last weekend when their helicopter crashed in Afghanistan were depicted.
Almost 10 years of endless war, cheered on by the MSM, who helped pass on many a lie about Iraq and Afghanistan, Yemen and Libya and no questions.
But if these jackals don't get to take a pic, they start raising hell?
Sorry MSM, too late to pretend you actually report the news. Go back to the next Casey Anthony trial BS campaign that is surely coming to the Boob Tube, sooner or later.
Freedoms I Wish the Military Were Defending By Laurence M. Vance

"Freedom itself was attacked this morning by a faceless coward, and freedom will be defended." ~ George W. Bush, September 11, 2001

We have heard it repeated loudly and continuously since 9/11 – the troops are defending our freedoms. This claim is made so often and by so many different segments of society that it has become another meaningless national dictum – like "God Bless America" or "In God We Trust."

This cliché is actually quite insidious. It is used as a mantra to justify or excuse anything the U.S. military does.

U.S. troops are engaged in unconstitutional, undeclared wars – but the troops are defending our freedoms. U.S. drone strikes killed civilians in Pakistan – but the troops are defending our freedoms. U.S. bombs landed on a wedding party in Afghanistan – but the troops are defending our freedoms. U.S. soldiers murdered Afghan civilians and kept some of their body parts – but the troops are defending our freedoms. U.S. helicopter pilots gunned down Iraqi civilians – but the troops are defending our freedoms. U.S. soldiers killed civilians for sport – but the troops are defending our freedoms. U.S. troops carelessly killed civilians and then covered it up – but the troops are defending our freedoms.
If anyone would know what a
faceless coward would look like, it would be that stack of human foreskins, the mass murdering, psychotic GW Bush, who went AWOL from his comfy Texas Air National Guard spot the DAY BEFORE a scheduled physical that included a piss test for illegal drugs, but his Daddy intervened and saved 'Junior' from any punishment.
Good training for the future president.