Do you prefer the lily-white skin image of JC with his 'perky' looking nose that is plastered in nearly every US church?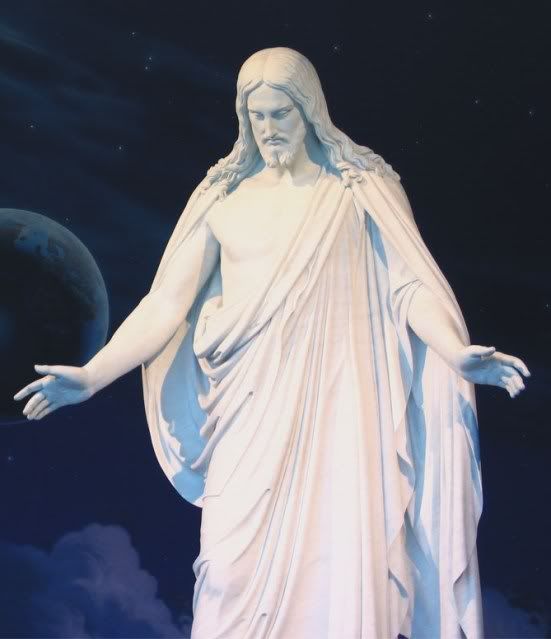 Or the one showing JC packing a firearm, looking like he's getting ready to blast someone to Kingdom Come?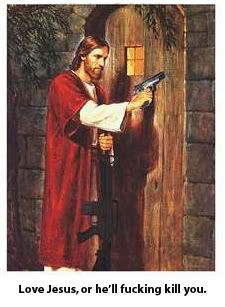 Either one is a fraud, since JC was born in PALESTINE over 2,000 years ago, which means he was dark-skinned, at the very least brown or maybe even BLACK.

But trying to sell a BLACK Jesus to the American public would go over like a turd in a punch bowl.
A LONG time ago, while still searching for something, I joined the local Assembly of God Church in my hometown.
AOG is part of the Evangelical/Pentecostal movement.
The people who belonged to that AOG outlet were some of the poorest in the county, yet they gave an immense sum of money each week and had paid CASH for the building, which was formerly a Methodist church, so there was very little overhead.

But something kept nagging me, I never saw or read about what all of that money was being used for, it sure as hell wasn't being used to feed the poor; tend to the sick and shelter the homeless.

One day, I asked the preacher what the donated money was used for and he replied, "It's not up to YOU to question what god does with his money."
Must of made him mad, since his face turned red and his neck veins were popping out, I turned around and walked out and haven't been to a church since.
If you want to see how unglued many 'peace' loving Christians become if someone suggests JC might of been a BLACK man,
go to this link
That book they love to Thump, the Bible, says JC's hair was as wooly as a lamb's and his skin was bronze colored.
Don't sound like the clean-cut looking white boy next door to me.
Are Evangelical Christians Warmongers?
That's a trick question, Right?
UPDATE: H/T to 'Musique' for this tip.
If someone had said it was a joke, I would've believed it, but this is for real.
Most Christians have gone completely nutty, probably due to all that hatred and blood lust they have in their hearts for Muslims and the Islamic faith.
"Mission Accomplished" Israel!
'Pole Dancing for Jesus' taking off among churchgoing women - and MEN

Once confined to the gentleman's club, the pole dancing craze has made its way into fitness clubs - but how about religious circles?

What was once seen as sleazy practice is now gaining steam as a way for some women - and men, too - to get closer to God.

A YouTube user who goes by the name MrPhatLips is one who has embraced the trend, posting videos of himself spinning up and down the pole while religious music plays.

The Washington, D.C. resident, who's also known as Jungle Cat, writes on his YouTube profile: 'I am a very deeply spiritual follower of Christ.

'Partaking in pole fitness does not mean that I am automatically driven by sex.'

Earlier this year, Crystal Dean began teaching 'Pole Fitness for Jesus' classes in her Old Town Spring, Texas, studio.
All I can say is, 'Jesus H. Christ!'
---------------------------------------------------------------------------------------