BAILOUT MADNESS - Wall Street Socialist Millionaires Mock Protesters While Drinking Champagne
"All you peasants do is whine, moan and groan."

"I lost my house,' or 'I can't feed my family," or "I can't afford to take my child to the doctor."

TOUGH SHIT. We don't want to hear your whining, get back to work at your minimum wage job--if you still have a job--and be thankful we don't call OUR police and have you tossed in jail, you morons.

But we're not completely heartless, if your kids are hungry, have then dig around in the trash cans behind out $25 million dollar penthouse, I'm sure there's some left over pâté de foie gras & imported Russian caviar we threw in the garbage.
Talk about irony. The millionaires at 55 Wall Street (who live well thanks to taxpayer bailouts) drink champagne and mock the 'Occupy Wall Street' protesters below, many of whom are strident capitalists demanding an end to stealth Wall Street bailouts by the Federal Reserve and U.S. Treasury.

Who occupies 55 Wall Street? The sprawling, historic Manhattan building is home to the Ciprion Club Residences, a private club as well as residence to Wall Street's élite.

Gathered on the balconies of this home of the rich, men in suits and tuxedos as well as women in silk dresses and business suits, casually sipped on their glasses while smiling and taking pictures, seemingly oblivious to the fight of the 99 percent.
Comparing 2012 Campaign Contributions For Obama, Ron Paul, Mitt Romney - Goldman Sachs Dominates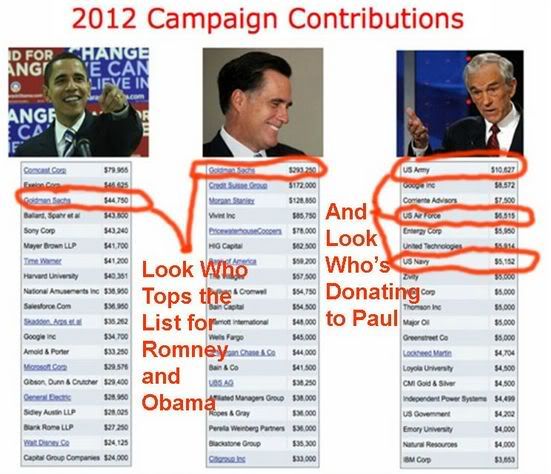 Like 'Cherie' Antoinette Obama says, "Let them eat cake."Michelle Obama dazzles in $42,159 Diamond Bracelets at DNC fundraiser
--------------------------------------------------------------------------------------