What kind of soulless ghoul shoots little girls? Is being G-d's "Chosen Ones" a free ticket to commit any kind of atrocity, no matter how sickening and barbaric?

If so, then their G-d is either completely fucking mad or the G-d they worship doesn't reside in Heaven, but down below.
Maybe the author Andrew Hitchcock, who wrote the book,
"The Synagogue of Satan"
is on to something.
So complete is Jewish domination of the media that Americans are left totally in the dark about Jewish hate crimes and atrocities. In 1994 in Hebron, Israel, Baruch Goldstein took a machine gun into a Moslem mosque during worship. Goldstein, a believer in the Jewish holy book, The Talmud, which teaches that Jews are a superior god race, but Gentiles are like insects and cattle, savagely massacred 29 unarmed worshippers and wounded 125.

Today, in Israel and in Jewish communities worldwide, Goldstein is a hero. Rabbis portray him as a "saint." Joyful celebrations take place at his grave site on the anniversary of the Hebron massacre. All this is widely reported in the Jewish media, but carefully hidden from ordinary Americans.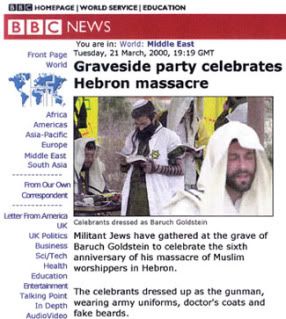 I don't believe in the existence of the Christian god that was taught to me in Catholic Church and the Catholic schools I attended, so that means I don't believe in his creation, Satan, but after reading time and again how sadistic and trigger happy the 'Zionist Occupation Forces' are, I'm beginning to wonder if I'm wrong about my original thoughts.
Still proud of the way YOUR tax dollars are being used?
If you are, here's more convincing that the USA is propping up and supporting the world's #1 terror state, Apartheid Israel:
Report: "19 Children Killed, 200 Injured, By Israeli Shells In 2011" December 11, 2011

Adham Abu Salmiyya, spokesperson of the Higher Committee for Medical and Emergency Services In Gaza, reported that, in 2011, Israeli soldiers killed 19 children, and injured more than 200, in Air strikes and bombardment targeting the Gaza Strip since the beginning of this year.

Abu Salmiyya added that the youngest of the slain children were identified as Malak Shaath, 2, and Islam Qreiqe', 3, adding that most of the slain children faced horrific deaths as Israeli military shells mutilated their bodies.

He further stated that more than one-third of the wounded Palestinians in 2011 are children...
Still get misty eyed and think of 'Mein Fatherland,' anytime someone mentions that nation of thieves, liars, false flag specialists, mass murderers and back-stabbers?
Then here's one more story about that nation of crazed sadists:
Jewish settlers eyed after another mosque burns

RAMALLAH, West Bank -- Vandals set fire to another mosque in the West Bank on Thursday and defaced it with Hebrew graffiti after Israeli forces tore down structures in a settler-outpost built without government approval.

Suspicion fell on Jewish extremists widely assumed to be behind stepped-up violence against Palestinians and the Israeli military.

On Wednesday, radical Jews burnt the exterior of another unused Jerusalem mosque and scrawled "Death to the Arabs" on its walls.

The increasing frequency of the attacks, the sparse number of arrests and paucity of indictments have generated allegations that the Israeli government isn't acting forcefully enough against extremists after two years of violence.
What do you think would happen if some Jewish synagogue in Israel had been vandalized, defaced and set on fire, with the blame being put on Palestinians?
It would be the lead story on all of the Zionist owned MSM, with interviews of American Congressmen and women calling for restraint on Israel's part, but that Israel has the right to defend itself and then American made Apache helicopter gunships and American made F-16's, weapons of death and destruction given to Israel by our sold-out government, would go on a murderous mission into Gaza, with many
'Christian'
Americans clapping and cheering that their beloved state of hate, Israel, had shown those damned 'Muzzies' who's the boss.
Hitler and the Nazis boasted to the world that they were the "Master Race."

Is there really any difference between calling yourself the "Master Race" or saying that you are 'G-d's Chosen Ones'?
This is for all you 'GAWD' fearing, Apartheid Israel loving 'Christians.'
Israeli Mayor Bans Christmas Trees

The mayor of Nazareth Illit, an Israeli town with an Arab Christian minority, has declared a ban on the public display of Christmas trees. "Nazareth Illit is a Jewish city and it will not happen--not this year and not next year, so long as I am a mayor."
Time to tear down that manger scene, remove your Christmas tree and put up a menorah.
----------------------------------------------------------------------------------------