One look at his huge belly and you can tell Newt is pregnant, but the coy Newt isn't saying who knocked him up.
Inquiring minds wants to know who's the Father?
Some think its
Wall Street.
Some say
Israel.
Or maybe it's the
multi-billionaire Koch Brothers?
(This "Source Watch" article on the Koch Brothers outlines their sleazy ways, from bribing foreign officials, to stealing oil on Indian Reservations, to teaching employees to steal and cheat in business dealings, the Koch Brothers have certainly earned their fortune the 'old-fashioned' way; they've stolen most of it from others.)
Doctors who will assist in the birth say they will have to
perform a Caesarean section, since the Ultrasound Scan showed the baby to be a male with horns and the physicans were concerned the sharp points might damage Newt's rectum.
Newt's Zionist Jew supporters have assured him that even though this procedure
violates certain Judaic religious laws
, Gingrich's spawn will still be eligible for the
"Pidyon HaBen"
dedication ritual.
When the former Speaker of the House was asked if he had picked a name for the baby, he replied that '
Baʿal
Samuel Gingrich' was at the top of the list.
Newt's Buddies in Action
Republicans Murder Liberal Cat

The campaign manager of Arkansas Democratic congressional candidate Ken Aden arrived home last night to find his child's pet cat murdered on the front porch with the word "LIBERAL" scrawled across its lifeless body.

Aden's campaign manager, Jake Burris, lives in central Arkansas with his four kids.

Last night, Jake and his four kids had come back to their Russellville home. As they were getting out of the car, one of his children discovered their family cat dead on the front porch. One side of the animal's head had been bashed in and an eyeball was hanging out of its socket. But there was something even more horrifying to be found on the corpse. Written across the animal's fur in black marker was the word "LIBERAL."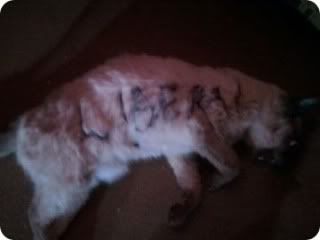 Is this what the 1% have planned for the rest of us? Bashing in our skulls to send a message and to steal what little we have left in our pockets.
And what kind of sick, depraved fuck does this to a helpless house pet?
--------------------------------------------------------------------------------------