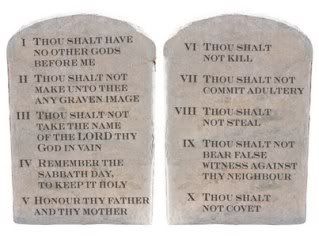 Being raised a Catholic, going to church at least once a week and attending a total of eight years of Catholic schools, where the nuns wore those 'penguin' looking outfits and literally beat the love of God into one, always brought up more questions than answers.
Eventually, I didn't understand the Catholic notion that one could rob and murder someone on a Saturday morning, both against the Commandments, but if you went to Church and confessed your sins before dying, you'd go to Heaven.

And you could repeat that same deadly spree next week and still go to Heaven, as long as you first went to the church and confessed your sins. Telling the nuns that one could keep repeating those horrid conditions week after week and yet, still go to Heaven made no sense to me and was usually good for sharp rap on the knuckles with those oak yardsticks they'd have close at hand, using them like a cop would use a nightstick.
I also never understood how the "10 Commandments" got their ranking, which I also asked questions about and would also get the same negative response, sometimes even getting sent to the principal's office and getting more corporal punishment for being 'blasphemous' against their God.
If, as the nuns and Catholic Church taught me, that their God is the source of pure love, all-knowing and all-powerful, then why are four of the first 10 Commandents have to do with that God, either directly of indirectly?
If that God is the REAL source of pure love, why would such a being be so concerned about his/her/its creations always worshiping him/her/it so much, that it takes up the first of the four Commandments?
That's not one being showing love towards another, but more like an sadistic husband abusing his wife and punishing her for having not made his favorite meal.
One of the most reprehensible crimes one human can commit towards another is murder, yet it doesn't show up until it becomes the Sixth Commandment.
Honoring your father and mother is fine, but shouldn't the crime of murder be ranked higher in God's 'Top Ten List of all Time Favorites' than murder?
What about another nasty way to treat a fellow human, by lying to them? That would seem to rank higher than #9.
Who really wrote the Commandments and what was their real goal?
To show people the path to enlightenment or to keep them scared all their life, fearing a God that is supposed to be the source of all love?
Something doesn't make sense, but in today's world of mega-churches and TV Evangelists always thumping the Bible, it sure does make a lot of money.
P.S. And isn't changing the word of their God in the 10 Commandments from not "coveting they neighbor's ass," to "not coveting thy neighbor's donkey" that all these revised Bibles have, isn't that an act of blasphemy, since a mere human is changing the word of their God to fit the mortal's sense of decency?
--------------------------------------------------------------------------------------