Like the Prohibition era gangster
Al Capone
, who was upfront about his rackets of running booze and controlling most illegal activity in and around Chicago, Illinois.
And had no problem with eliminating the competition, in a rather ruthless and deadly manner.
Here's the
quote
from Capone:
A reckless gambler at almost anything, Al Capone had shunned the market.

"It's a racket," he said. "Those stock market guys are crooked."

But he also used his loot to feed the poor and hungry--like pictured below--in the Chicago area, and donated to charities.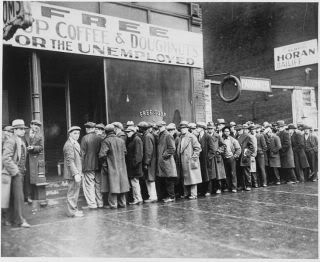 Capone knew that both the Feds and other gangs were after him, so he his Cadillac fitted with bullet-proof glass, run-flat tires and a police siren. In 1932, Treasury agents working on prohibition issues seized the car; it was later used as President Franklin D. Roosevelt's limousine.
Capone's limo went from one crook to another,
Roosevelt who as president confiscated American's gold on a flimsy pretext
,
then had his Federal Reserve gang jack up the price of the gold they had stolen so they'd make a nice profit.
Although Capone was a true gangster, at least he was honest about his activities, unlike the gangsters in the government.
During the Great Depression of the 1930's, up to SEVEN MILLION Americans died from hunger and from exposure to the elements, since the government and banks had confiscated their homes due to the Federal Reserve crashing the market, but not before they let their friends know to get their money out of Wall Street.
Sound familiar?
Capone's murders weren't anywhere close to SEVEN MILLION, probably less than 50.
So who's the real gangsters?
--------------------------------------------------------------------------------------------------------------------------------------