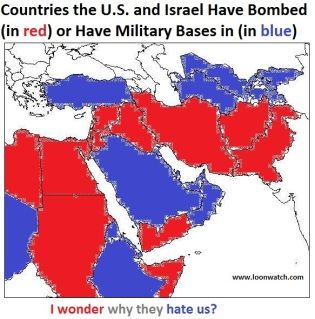 Not a week goes by without news of U.S. drone strikes in Pakistan or Yemen, but the U.S. also conducts assassinations by helicopter-borne special forces like the ones who killed Osama Bin Laden. The former head of Special Operations Command (SOCOM), Admiral Eric Olson, told an Aspen Institute conference that SOCOM conducts a dozen such operations every night in Afghanistan and elsewhere. The total number of night raids in Afghanistan escalated from twenty per month in early 2009 to over a thousand per month two years later, and senior officers admit that at least half of them target the wrong person or house.

Sixty thousand U.S. special operations forces now conduct assassinations, night-raids, training missions, joint operations and exercises in 120 countries around the world, twice as many as when Obama came to power, with deployments in about 70 countries at any given time.
Source:
ICH
Not because we have too many freedoms or because we're fat, sassy and full of ourselves.
People around the world hate us because our hijacked, out of control government KILLS people without trial, or evidence or even giving them a chance to speak out for themselves and proclaim their innocence.

That's why they hate us, because Wall Street, Israel and the Fortune 500 want them killed.
Now go back to sleep….. There, isn't life so much better when you don't have to think?
----------------------------------------------------------------------------------------