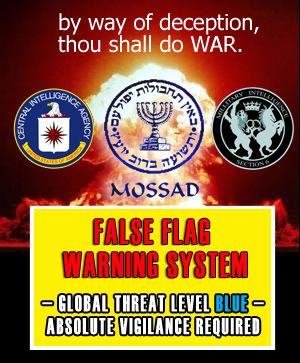 What SLC has a nasty way of throwing hissy fits when it doesn't get its way?

What SLC is led a collection of psychotic goons who would love nothing better than to get the USA to bomb Iran?

What SLC is renowned for its use of the False Flag attack, like 9/11 and brags that it's CIA counterpart 'wages war thru deception?'

If you answered Israel, you are to be congratulated for reading articles and thinking for yourself and not regurgitating FOX and CNN talking points.
A low-quality film mocking the Muslim Prophet Muhammad reportedly sparked some Libyan Islamist extremists to attack the U.S. Embassy in Benghazi, killing U.S. Ambassador Chris Stevens and three other diplomats. Earlier on Tuesday, a group of Egyptians scaled the walls of the U.S. Embassy in Cairo and tore down the American flag, angry over the same movie.

So what is this film, and who made it? The English-language film, portions of which have been online since July, attracted attention in Egypt only over the past few days when someone posted a segment of the movie that had been dubbed into Arabic, according to the New York Times. Some Egyptian TV hosts began airing clips of the film over and over, portraying it as a Coptic Christian and American plot to denigrate the prophet. (Morris Sadek, a Coptic Christian from Egypt and critic of Islam who now lives in the United States, told AP he recently began promoting the two-hour film, which might also explain its rise out of obscurity.) The amateur-seeming "Innocence of Muslims" film shows the Prophet Muhammad as a homosexual who endorses extramarital sex and pedophilia, along with other slurs against Islam. (Many Muslims consider physical or visual representations of Muhammad to be blasphemous.)

Though at first it was unclear who made the movie, the Wall Street Journal tracked down and interviewed Israeli-American real estate developer Sam Bacile, who claimed that he wrote, directed and produced the film. The 52-year-old Bacile told the Journal that he made the film to portray Islam as a hateful religion:
"Islam is a cancer," he said in a telephone interview from his home. "The movie is a political movie. It's not a religious movie."

Mr. Bacile said he raised $5 million from about 100 Jewish donors, whom he declined to identify. Working with about 60 actors and 45 crew members, he said he made the two-hour movie in three months last year in California.
Source:
Yahoo News
To refresh your memory,
Morris Sadek
, along with shit stirrer Geert Wilders and the assine Bridgette Gabriel, and the rabid Muslim hater Robert Spenser were the ones who led 2010 protest against building a mosque in NYC.
Any other doubts that everyone's SLC was behind these attacks can be eased by reading this
article
, and
knowing that Israeli CRIME MINISTER Betty Nuttyahoo is totally pissed that OBOMBA hasn't carried out the wishes of the Zionist loonies by attacking Iran, so it's time to get some air time on the Zionist owned MSM that paints America as some kind of heel for not destroying Iran.

Israel, if you want to attack Iran, leave us out of your latest blood soaked hate fest, we've had enough of your sadistic manipulations.
----------------------------------------------------------------------------------------