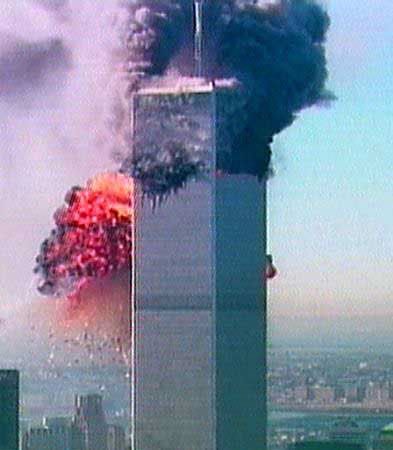 With close connections to the key individuals who had control of the twin towers shortly before they were destroyed, the obvious question is: Did Rupert Murdoch have prior knowledge of the impending Sept. 11, 2001, attacks?

"Rupert's father Sir Keith Murdoch attained his prominent position in Australian society through a fortuitous marriage to the daughter of a wealthy Jewish family, née Elisabeth Joy Greene. Through his wife's connections, Keith Murdoch was subsequently promoted from reporter to chairman of the British-owned newspaper where he worked. There was enough money to buy himself a knighthood of the British realm, two newspapers in Adelaide, South Australia, and a radio station in a faraway mining town," Candour wrote in 1984. "For some reason, Murdoch has always tried to hide the fact that his pious mother brought him up as a Jew." While Murdoch may have "tried to hide" his Jewish roots, he has been quite forthright about his support for extreme right-wing Zionists, such as Benjamin Netanyahu and Ariel Sharon.

Netanyahu, who wrote a book entitled The War on Terror: How the West Can Win in 1986, is a frequent commentator on Murdoch's Fox News.

Murdoch's support for Zionism extremists is well known and a matter of record. As New York Governor George Pataki said, "There is no newspaper in the U.S. more supportive of Israel than the [Murdoch's] New York Post." It is through a network of Zionist organizations, in which Murdoch plays a central role, that Murdoch is connected to the individuals who arranged the privatization ­ and obtained control of the World Trade Center ­ shortly before its destruction.

These key individuals are: Larry Silverstein and the former Israeli commando Frank Lowy, the lease holders of dubious repute who gained control of the WTC property six weeks before 9/11, and Port Authority Chairman Lewis M. Eisenberg, who authorised the transfer of the leases.

Murdoch belongs to, and has been honored by, a number of leading Zionist organizations in which Silverstein, Lowy, and Eisenberg all hold senior positions. These organizations include the Anti-Defamation League (ADL), the United Jewish Appeal (UJA), and the New York-based Museum of Jewish Heritage - A Living Memorial to the Holocaust.

Fifty days before 9/11, Silverstein Properties and Lowy's Westfield America secured 99-year leases on the WTC. The Port Authority of New York and New Jersey turned control of the World Trade Center over to the private hands of Silverstein and Lowy on July 24, 2001.

Silverstein and Lowy then took control of the 10.6 million-square-foot complex, which included the twin towers office buildings and two nine-story office buildings. Silvestein and the former Israeli commando Lowy then controlled all access to the World Trade Center.
Source:
Global Research
'Lucky' Larry not only secured permission to rebuild the WTC complex if it was destroyed, he wasn't the highest bidder for the lease....
Duh!