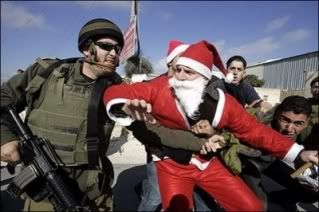 'Twas the night before Christmas, when all through Palestine
IOF creatures were stirring, setting land mines.
No stockings were hung by the chimney with care,
Palestinian kids knew death was in the air.

The children were hiding under their beds,
While IOF storm troopers were about, spraying lead.
And mamma in her hijab, and I in my cap,
Were praying to Allah that the IOF would not snap.

When out on the lawn there arose such a clatter,
IOF machine guns were making bodies splatter.
A window broke with the sound of a crash
As an IOF grenade, turned my brothers into mash.

The blood on the breast of the new-fallen snow
Gave the lustre of death to objects below.
When, what to my frightened eyes should appear,
But an Israeli tank, and eight more IOF troopers and gear.

The IOF tank driver, so little and quick,
I knew in a moment, compensating for his small dick.
More rapid than eagles his shells they came,
And he laughed and shouted, and called my family names.

And then, in a twinkling, I heard the roof cave in
And the IOF troopers, shouting with a grin.
As I drew in my head, and was turning around,
Down the chimney came a IOF mortar round.

It crashed to our floor, with a terrible noise
Killing my father with typical Jewish joy.
An IOF trooper, with bombs in his backpack.
Kicked open our door and started to attack.

His eyes-how they gleamed! My, how scary
His cheeks were like tombs, his nose like a cherry!
His droll little mouth was drawn with a sneer.
The bulge in his pants, told me he was queer.

The stump of a pipe bomb he held tight in his teeth,
And the smoke it encircled his head like a wreath.
He had a ghostly face and a little round belly,
That shook when he shot his machine gun, like on the Telly.

He was severe and plump, a bastard with a leer
And I cried when I saw him, filled with fear.
The gleam in his eye and a twist of his head,
Soon gave me to know I had much to dread.

He spoke not a word, but went straight to his work,
Spraying bullets around, like a callous jerk.
And laying his knife aside of my throat
He slit it open, like one would a goat.

He sprang to his tank, to his team gave a whistle,
And away they all flew like the down of a thistle.
But I heard him exclaim, 'ere he drove out of sight,
"Death to all Palestinians and to all, a gory night!"