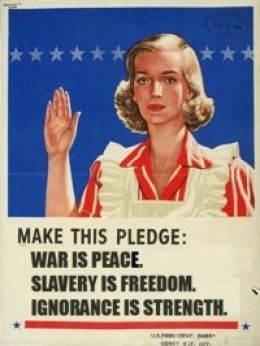 Disclosure: I've NEVER watched any type of Hollywood award ceremony and don't plan on watching any kind of award ceremony.
Lies about damn near everything, but the most damning are the ones that promote the
'War is Good, Double Good'
narrative.
Aided and abetted by the cabal that is running Hollywood and for that matter, the entire USA
. Using one of the most easily manipulated mediums to keep people scared and in the dark so Americans will keep supporting these 'Wars for Wall Street and Israel,' using the
FALSE FLAG/INSIDE JOB of 9/11.
So another 'War is Good, Double Good' movie
wins a bunch of awards
and if it
demonizes Iran
in the process, so much the better.
Deja Vu all over again.
The beautiful movie "Avatar" also lost out to a pro-war movie.
Can't have a movie that is anti-war;
anti-occupation;
pro-peace; anti-Imperialism; shows a profound reverence for Nature and has a healthy dose of Native American spiritualism like Avatar win an Oscar, that could throw people off the official narrative of 'War is Good, Double Good.'
But the people spoke louder than some pretty Hollywood award ceremonies, making 'Avatar" the
best grossing picture
of all times and the best selling Blu-Ray disc.
"Avatar"
grossed close to 3 BILLION
, while that other movie
couldn't even make it
to 50 million world-wide.
"I have come to the conclusion that Big Brother's subjects in George Orwell's 1984 are better informed than Americans."
If you know
who owns Hollywood
, then you'll understand why these 'War is Good, Double Good' movies get awards, while masterpieces like 'Avatar' get shunned.
The US Army's "Human Terrain System," coming soon to a village near you!