From using that

MOSSAD/CIA FALSE FLAG/INSIDE JOB of 9/11

to now, we have let loose an unimaginable collection of horrors against the Muslim world. The war against Afghanistan evolved into a war against Pakistan, deliberately so, further dragging America into a bankrupt hole, morally and financially from which we will never emerge.
And that's the good part, as the Afghans, Libyans, Iraqis, Syrians and most of the ME and SW Asia are being subjected to a non-stop litany of abuse, murder and torture as we slowly rip nations apart.
While we vent our frustrations and madness against the people of Afghanistan, Pakistan, Mali, Niger, Iraq, Somalia and Yemen, that Apartheid Nightmare AKA Israel continues on with it's planned ethnic cleansing campaign of murder and theft against the indigenous Palestinians, with the Zionist owned MSM playing up genocide like it was part of the 'War of Terror.'
Why did WTC 6 look like it had been destroyed by an interior explosion?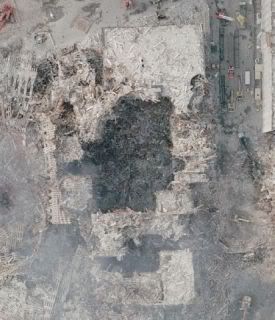 Can someone please explain how WTC 6, which NO airliner impacted, wound up being totally destroyed? Yet, it did not collapse and fall down into its own footprint, strange, no?
The 8-story WTC 6 lay between the North Tower and WTC 7.
WTC 6 was evidently damaged before either tower fell and had an unexplained crater that went to the lowest basement level. The basement of the building appears to have experienced an explosion at the exact moment the South Tower collapsed. In this photo the rubble of the North Tower is on the left and the remains of WTC 7 are on the lower right.

The destruction of WTC 6 is one of the many unexplained questions of 9-11. This 8-story building suffered a huge crater in its center which went all the way down to sub-basement levels. What caused the huge crater in the middle of WTC 6?
I guess NIST was too busy concocting lies about how WTC 7 fell to take time and look into the mysterious destruction of WTC 6.
More photos and evidence
available here:
DAZED AND CONFUSED: WHY YOUNG JEWS ARE JOINING AL QAEDA
Surely this isn't just another power and money grab by the world's leading authority in lies, theft, con games, murder and larceny?
Thus, the Big Lie begins
(8:50 a.m.) September 11, 2001:
CIA Director Tenet Told of Attack, Immediately Suspects Bin Laden