Monsinto is pleased to announce our next generation of weed control, HEEBICIDE®.
HEEBICIDE® is designed to kill off those really nasty weeds that have roots that go back centuries.
HEEBICIDE® is costly, but letting this particular type of viral weed grow unchecked can cause an enormous amount of money, grief and misery. Just look at the unchecked growth of HEEBS in Palestine, Syria, Lebanon, Germany and the country formerly known as the USA.
Left unchecked, HEEBS can invade every corner of existence, choking out the life of all GOYIM, as this stock tote board from 2008 clearly shows.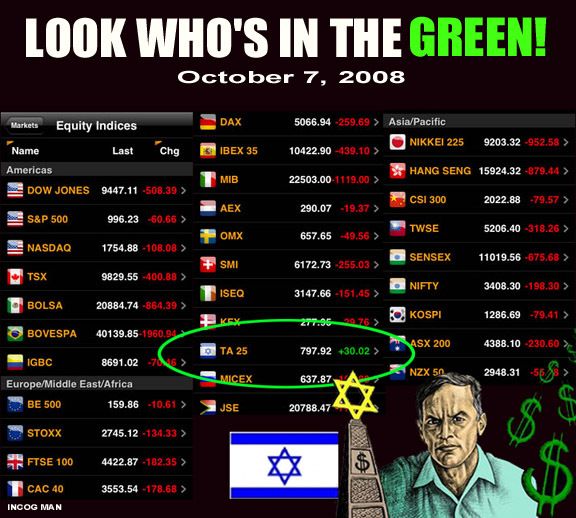 Once the non-native HEEB weeds gets a foothold, it won't be long before there are at least
6 million
of them, spreading their vines over all living matter.
HEEBICIDE's® ingredients are patent protected, but we can let you in on part of the secret formula. It's part truth and empathy, some honesty with added sympathy and the real killer that will make those HEEB weeds pull up roots and leave, no central banks.
HEEBICIDE® is available now at your favorite church, mosque and any farm supply store.
Monsinto
, helping rid the world of noxious weeds since 1901, with such notable products as Agent Orange, PCB's, Roundup Ready Soybeans, rBGH, GMO seeds, and our really big surprise for the planet,
TERMINATOR seeds.
The best way to spread HEEBICIDE. Notice how the ground is free of any signs of invasive HEEBS?
Buy HEEBICIDE® and stop the Talmud Terror Masters from the ritual killing of Gentile babies
Before HEEBICIDE® was available, we had such craziness as this Jewish heroine,
Lilith,
Adams' first wife, who was into to kidnapping, eating babies and serial adultery.