Rudolf Kauer, serial liar tells
tall tales
about the holocau$t.
"I lied about that. That was just a yarn going around the camp. I never saw it ..."
Another serial liar,
Rudolf Vrba
promoting holocau$t scams
"I do not know. I was just an actor and I recited my text."
More holocau$t fictions
, do they never end?
HOLY HOLOCAUST!
................... The brave soul who wrote this is
now sitting in an American jail
.
Con Artist History Month
, Celebrate every May or Else, Dumkoff!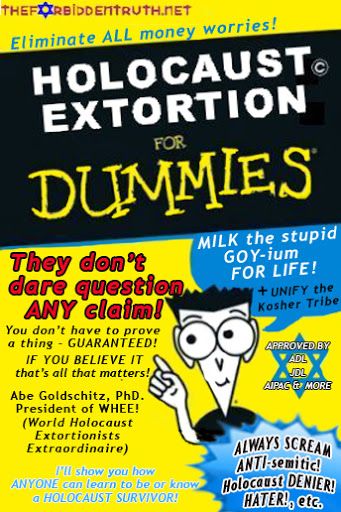 More holocau$t videos at
this link
One more thought: Why do so many of these hucksters have at least two names? There's no legitimate reason to change your name, unless you go into the Witness Protection program or have committed such a foul deed that you don't want people to know who you really are. Telling massive lies about the holocau$t is about the foulest deed there is, since that planet wide con led to the spawning of the world's #1 terror state, Israel, which in turn eventually led to the FALSE FLAG/INSIDE JOB of 9/11 and all the crimes committed by Zionists, Jews and NeoCons against humanity.
This Buchenwald
survivor
states that the holocau$t is a lie spun by Zionists and Jews "... to extort money to fund themselves and the State of Israel."