Will people get in their gas guzzling tank-like vehicles and drive 1/2 mile to the gym so they can walk 2 miles on a treadmill.
Will Christians go to church on Sunday, pray to the 'Prince of Peace,' Jesus Christ, then spend the rest of the week lustily cheering on the USA and Israel genocide against the Muslim world.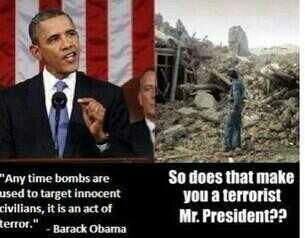 Will these same Christians on Sunday, read from the gospel of love, the New Testament, then spend the rest of the week thumping the Old Testament, which is
filled
with hate; incest; rape; drunkenness; murder; genocide; cannibalism; infanticide and revenge.
Will people set their rather large posteriors down on a couch, surround themselves with mountains of greasy potato chips, then wash all that junk down with a 'diet' soda because they're watching their weight.
Will people spend huge sums of money on weight loss programs, then drive the family to McDonald's to eat.
Will people spend 50 thousand on some gas guzzling behemoth, then shop for the cheapest, adulterated, toxic chemical laden 'food' from Wal Mart to feed their family.
Will people raise all sorts of hell about abortion clinics, saying its murder, then let their government murder millions of innocents, mostly women and children, in the ME, SW Asia and Africa w/o protesting.
Yes, America, these murdered children are human beings, or they were. Where's the tears for these souls?
These too are children, murdered with your tax dollars. Feel proud to be a 'Gawd fearin' Christian' now, Amerikkka?