Say in the Occupied West Bank city of Hebron. Try a place called "Nahaliel." Go into the ultra-Orthodox section and
take off your clothes,
in front of some SINagogue and see what happens.
A word of advice, make sure you have your will filled out, because the local police won't be coming to your rescue, they might even help the enraged Tribe members in giving you a good ass-kicking, followed by getting stoned to death, and I don't mean the
Bob Dylan type of stone.
These easy going guys will just love your shtick!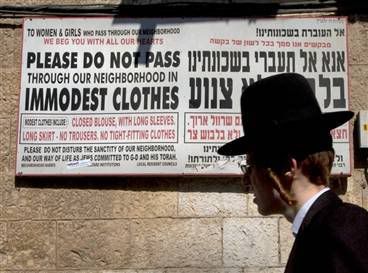 Tunisian Femen activist Amina Tyler has been arrested in the city of Kairouan, 150km south of Tunis, after staging a protest outside a mosque during violent clashes between police and hardline Islamists.

Police took the member of radical feminist movement into custody after she spray painted the Femen name on a wall outside the Great Mosque of Kairouan, also known as Oqba ibn Nafa mosque.
FEMEN also likes to parade their political porn in churches.
A topless activist of the FEMEN movement was arrested inside Notre Dame Cathedral Wednesday, one day after far-right essayist and historian Dominique Vesser committed suicide in the Paris landmark.

The bare-chested woman was photographed in front of the altar, pointing a fake gun at her mouth. The slogan "May Fascists Rest In Hell" was written across her torso.
Again, back at a mosque.
FEMEN : FIRE OF REVOLUTION IN FRONT OF A MOSQUE IN PARIS


Wonder what 'Tribe' the founder of FEMEN,
Anna Vaselina Hutsol
, belongs to?