If you were a chicken, would you rather endure that insult or be stuffed into the
vagina of a Jewess
of the 'band' called "Pussy Riot?"
"Pussy Riot" have performed their obscene shows in Christian churches and Muslim mosques, but never in a JEW synagogue, wonder why?
So, after a hard day of swinging terrified chickens over the heads of JEW sinners, what's a Rabbi do to relax?
Perform oral sodomy on a baby, naturally. After all, the "Brit Milah" act of "Metzitzah B'Peh," as it's legal in the USA and many other nations.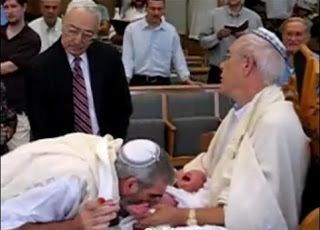 Israel even allows the
circumcision of dead people.
Wonder if the Rabbis like slurping on a corpse?
You're not some raving 'anti-Semite' that thinks this perverted practice should be abolished, are you? Just because it's repulsive, sickening and
transfers diseases
to the poor infant is no excuse to stop Rabbis from sucking on a baby's penis, you 'Jew Hater,' you!
Now get your sorry ass down to the nearest DHS hive and turn your Jew hating ass into the proper authorities for being a hateful anti-Semite!