Many people still believe what our corrupt, hijacked, Israeli ass-kissing government told us about the
9/11 FALSE FLAG/INSIDE JOB
, which was actually pulled off by the White House and elements of the FBI, CIA, NSA and the Pentagon. Orchestrated by Israel and funded by the FED and those 'Too Big to Fail' Wall Street banks.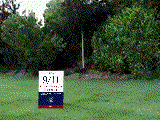 That's because 9/11 was seared into our collective brains that day, branded you might say, due to the shock and horror of what we were told by the
JEW MSM
was happening on our TalmudVision sets.
That would be like the cops showing you a fairly well-faked video of your wife and kids--two hours after their deaths--getting beaten to death by some black gang-bangers, when the truth it was the cops who beat your family to death.
The shock and horror of watching your loved ones getting smashed into the pavement would have an immediate impact on your brain and ability to think. The initial shock, grief and horror of that tragic event would be surpassed by an overwhelming desire to get revenge... against the ones shown as the culprits in the video.
Take a look at this video and see what you see, then try and explain what happened to yourself.
I didn't catch what the
video poster
did, but what impact me was that the plane, at that speed, looked totally fake.
ANOTHER 9/11 MASTERMIND!!! READ HIS PERSONAL DIARY FROM GITMO!!!
"How Many 9/11 Masterminds Can YOU Name?"
What do these 'Kosher Kowboys' know about 9/11?
2,000 year old blueprint for the 9/11 FALSE FLAG/INSIDE JOB.
"Foreigners will rebuild your walls,
and their kings will serve you. [...]
Your gates will always stand open,
they will never be shut, day or night,
so that men may bring you the wealth of the nations — their kings led in triumphal procession.
For the nation or kingdom that will not serve you will perish; it will be utterly ruined."
["utterly wasted", "utterly destroyed" in
some translations
]
Jewish Old Testament, Isaiah, Chapter 60:10-12