"Censorship is the child of fear and the father of ignorance."
― Laurie Halse Anderson
This is what happens when you have the misfortune to report the facts about whose in charge of the Federal Reserve, you get blocked from making future comments.
The story I commented on was about the shootings in KC and the alleged shooter, Miller/Cross saying that Jews controlled the Federal Reserve.
Here's the comment I left that was 'wiped off the face of the Earth' and that got me banned from making future comments at the online media outlet, 'Raw Story.'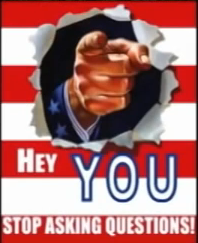 The story I commented on was :
"MO mayor agrees with KC shooter Glenn Miller that Jewish bankers destroying US"
You commented · 21 hours ago Removed





The current head of the Fed, Yellen, is a Jew. The former head, Bernanke is a Jew, same for the one he replaced, Greenspan.





Most of the Fed Board members are Jewish. One, Fisher, was the head of Israel's central bank, now he's helping make financial law here in the USA?




Where does Fisher's true loyalties lie?





And are there no Gentiles that could be appointed head of the Fed?





Time now for all you pro-Israel types to start screaming your favorite slur, 'anti-Semite' at me for asking a simple question that the MSM won't touch.
This isn't the first time I've been banned, nor will it be the last. At the outlets that banned me, you could post all sorts of lies and falsehoods about Muslims, call them all sorts of names, advocate for wars and violence against Islam and those expressions wouldn't get banned.
But ask a serious question about the real power in this nation, the Jews, and you'll be kicked out the door ASAP.