First, an incident in the States in Miami, Florida:
Ferguson police chief received training in Israel: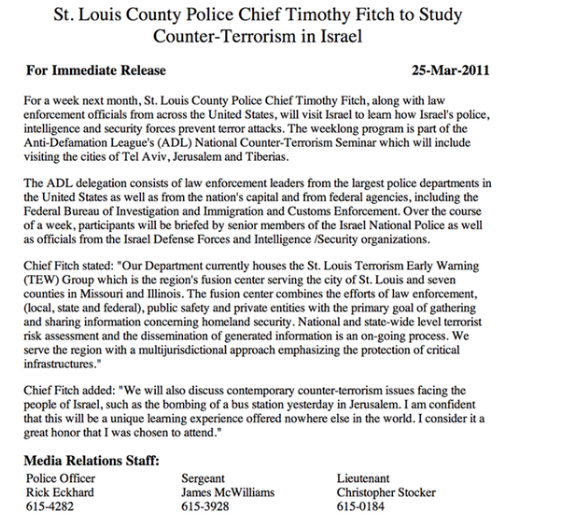 Now we go to 'Stolenland' to see how Israeli JEW THUGS laugh when shooting Palestinian kids who were playing:
Their obvious pleasure from shooting a kid becomes overtly evident starting at the 44 second mark.

The Canadian volunteer, Vern, who witnessed the soldier firing, stated, "After the soldiers left the roof, I went to confront them about why they had fired.

One of them said to me that he was the one who fired and that he was proud of his actions.

He then asked me to take his picture."

"This is not the first time protesters have been seriously injured or killed while not being a threat to the Israeli military. On Friday (8th August) in Hebron, 40-year-old Nader Mohammad Edrees was shot in the heart by an Israeli sniper. He died several hours later. This murder was caught on video, and it is clear that Nader was no threat whatsoever when he was killed, in clear contradiction of Israeli military policy and international law." Stated Issa Amro, Human Rights Defender with Youth Against Settlements (YAS), based in Hebron.

According to Article 147 of the Fourth Geneva Convention, grave breaches against protected people, such as Palestinians, not justified by military necessity and carried out unlawfully and wantonly, include willfully causing great suffering or serious injury to body or health.

Israeli Human Rights group B'tselem states that, "the army's open-fire regulations clearly stipulate that live ammunition should not be used against stone-throwers, except in cases of immediate mortal danger."
The depravity of these sub-human Israelis knows no bounds, like the time Rachel Corrie was deliberately ran over by an American made bulldozer for merely protesting the demolishing of a Palestinian home.
Footage from Rachel's murder by the Israeli Defense Forces. Actual cockpit transmission from the D-9 bulldozer driver to the watch tower, saying he "hit an object" and "I think the object got hit by the dobby (D-9) and he is in a severe condition." He is asked "Did you see him?" and responds "Yes I saw him, I think he is dead."

Rachel Aliene Corrie (April 10, 1979 -- March 16, 2003) was an American member of the International Solidarity Movement (ISM). She was killed in the Gaza Strip by an Israel Defense Forces (IDF) bulldozer when she was standing or kneeling in front of a local Palestinian's home, thus acting as a human shield, attempting to prevent the IDF from demolishing the home. The IDF stated that the death was due to the restricted angle of view of the IDF Caterpillar D9 bulldozer driver, while members of the International Solidarity Movement said "there was nothing to obscure the driver's view." A student at The Evergreen State College, she had taken a year off to travel to the Gaza Strip during the Second Intifada.
More Israeli sickness on display



Israeli forces shoot, kill 12-year-old Palestinian boy near Hebron



HEBRON (Ma'an) -- A 12-year old Palestinian boy was shot dead by Israeli soldiers while playing in front of his home in al-Fawwar refugee camp south of Hebron in the southern West Bank early Sunday, medics told Ma'an.

Palestinian medical sources at Hebron's al-Ahli Hospital told Ma'an that Khalil Muhammad Ahmad al-Anati arrived at the hospital after being shot in the back.

At least 17 Palestinians have been killed across the West Bank in the last month, amid widespread public anger and growing protests over an Israeli assault on Gaza that has killed more than 1,915 Palestinians in the last four weeks.

An Israeli military spokeswoman did not return calls seeking comment.
Will Israel be held to account for its massive number of war crimes against Gazans or will this turn out to be a 'dog and pony show' that gives Israeli war criminals a pass?

UN names Gaza war crimes probe panel

Israel dismisses the investigation into possible human rights violations during Gaza war as a 'kangaroo court'.
It won't be long before we start seeing this over under siege American cities: