The Holocaust is a fraud

The Holocaust history is a history based for the most part on testimonies, assembled according to the mood of the moment, truncated to fit an arbitrary truth, and sprinkled with a few German documents of uneven value and without any connection with one another.


There is not a scrap of paper work evidence to back up proof of the gigantic operation to knock off 6 million of God's finest with bug spray.





The Jews have fabricated an alleged monstrous event to manipulate history, further their own agenda, advance their own worldview, and create sympathy in their efforts to achieve world domination.



Strangely enough, the Torah, or Old Testament attempts to do exactly the same. The jews love to portray themselves as victims, even in the mythical story of the Exodus.

The six million dead jews in the holocaust has been repeated so often that it is now taken as an article of faith. Thus, the holocaust becomes a religion.

"The Holocaust has proven to be an indispensable ideological weapon. Through its deployment, one of the world's most formidable military powers [FAKE Israel], with a horrendous human rights record, has cast itself as a 'victim' state, and the most successful ethnic group [Jews' Race] in the United States has likewise acquired victim status. Considerable benefits accrue to this specious [appearing to be true but actually false] victimhood - in particular, immunity to criticism, however justified." quoted from Norman G. Finkelstein [a Jew] of the City University of New York The Holocaust Industry (2000) published by Verso, p. 3
"The Holocaust is a successful historical FICTION" -
Chief Rabbi Arye Friedman
[a Jew] Vienna, Suddeutsche Zeitung, Dec. 12, 2006, p. 7
Date, Publication and the amount of Jew dead from WWII. Pick a number, any number!
Source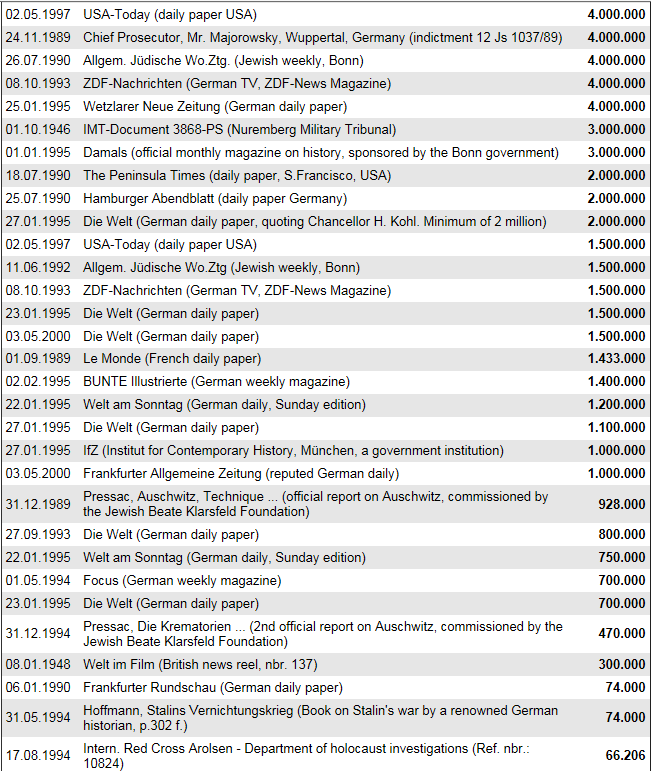 Part I Using a diesel engine's exhaust to kill people is damn near impossible, but not in 'HoloHOAX' land, where the trees are filled with hundred dollar bills, and there's a sack of gold in the home of every 'Chosenite,' courtesy of their GOY victims.
Part II The lies grow in number and size. "Oy Vey, you dumbass Goyims better stop asking questions!"
"Would you drink this water?" Find out the answer at around the seven minute mark.
Part III "After we give you a shave and a haircut, it's off to the gas chamber for you!"
Do these
lies and cons
never stop?
Nope:
85 year-old holocaust survivor fights anti-Semitic deer
Shoah Class Action Suit: Children of Holocaust Survivors to Sue Germany





A class action suit is to be filed in Israel against the German government on behalf of the children of Holocaust survivors who are in urgent need of psychological treatment.
You know what's coming next, don't you?
New Israeli study finds signs of trauma in grandchildren of Holocaust survivors
Will Germans finally say,
"Never Again"
and tell these grifters and con artists enough is enough?
Hard to speak up when your nation is occupied with over 50,000 troops that have nukes
controlled by Israel's bitch,
the USA.