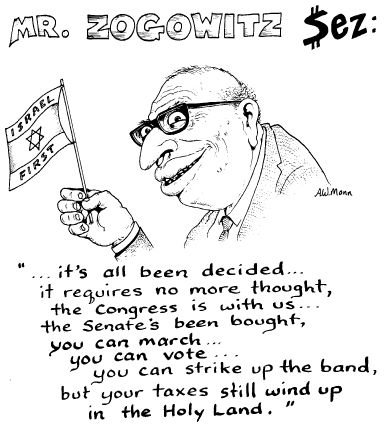 "In politics, nothing happens by accident. If it happens, you can bet it was planned that way."
Franklin D. Roosevelt
Did Obama sabotage the Iranian talks in order to get the NWO plot, the "Trans-Pacific Partnership" (TPP) passed?
That appears to be the case.
The TPP was stuck in stall mode and the Iranian nuclear agreement appeared to be heading to a successful conclusion, but not anymore.
TPP is another gang-rape of people, mostly Americans, since it's just another 'NAFTA' style agreement on steroids that Obama has been laboring to get passed for years.
The biggest winner will be Israel, getting the Iranian deal squashed and also having the Wall Street infestation of Jews and Zionists making tons of money off the TPP sell-out.
Trans-Pacific Partnership (TPP): Job Loss, Lower Wages and Higher Drug Prices





We only know about the TPP's threats thanks to leaks – the public is not allowed to see the draft TPP text. Even members of Congress, after being denied the text for years, are now only provided limited access. Meanwhile, more than 500 official corporate "trade advisors" have special access.
Before this past week, the TPP pact was languishing in Congress, with some voicing concerns about the detrimental effect on the American worker. But now most of Congress is making soft, cooing sounds toward Obama's push for the TPP, more than happy to throw Americans under the bus to please their Master, Israel.
And Israel, especially the at-large war criminal,
PM Netenyahu,
is ecstatic that the Iran deal looks to be circling the toilet bowl.
It's one hell of a coincidence that the Iranians got stabbed in the back by Obama the same week that Congress suddenly decided to let Obama shove the TPP down our throats.
As FDR said, nothing in politics happens by accident.
This is what Obama is supporting by stabbing Iran in the back
Israel and US defense contractors the winners in Iran nuclear deal sabotage
Immediately After Launching Effort to Scuttle Iran Deal, Senator Tom Cotton To Meet with Defense Contractors
Cotton is worried that ISIS--Israel's Secret Intelligence Services--is going to attack Arkansas....For one thing, they probably couldn't find it and for another, why bother? What's worth attacking in Arkansas?