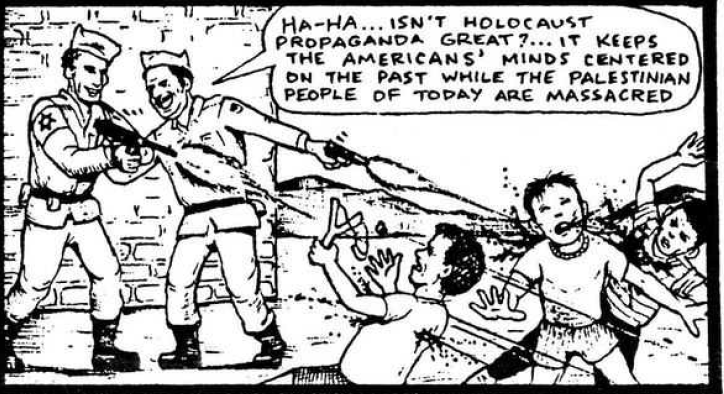 (There sure has been a lot of Holocaust™ fairy tales lately, so either Israel is planning another False Flag, like their attack on the USA on 9/11 or the parasites are running low on the money they've already extorted from the world.)
Tonight, PBS--Putrification, Bullshit and Slop Network--will run a two hour marathon regurgitating endless Holocaust™ mind-numbing slop that is designed to keep your mind in a fog, tears in your eyes and your pocketbook open to these hucksters.
The first Holocaust™ mind warp of lies, distortions and manipulations is called
"Treblinka, Memory of he Camps"
at 2000 hours, or 8:00 pm on KCPT, the Kansas City public television station.
Although their was
NO evidence
preserved at Treblinka, that doesn't stop the world's biggest pack of liars and ruthless con artists from continuing to dupe you and gather more victims so the loot will keep rolling in and Israel can go about butchering the indigenous Palestinians, screaming that the Holocaust™ gives them 'Carte Blanche' to sadistically murder the Palestinians while stealing their land, property and past.
The second load of foul-smelling feces is due to hit you in the face at 2100 hours--9:00 pm--This weepy load of electric crap is called,
"Memory of the Camps."
It was spawned 20 years ago, but as with anything that is polluted by the Holocaust™ con artists, it will never go out of circulation. It will keep reproducing throughout the week to reel in the suckers.
And now, to 'honor' these episodes of electric diarrhea, here is the Holocaust™ Song!
"I wish I were a Holocaust™ survivor
That is what I really want to be--eeee!
For if I was a Holocaust™ survivor
Everyone would give money to me!
I wish I was a Holocaust™ survivor
That is what I really want to do-oooo!
For if I was a Holocaust™ survivor
I would get lots of money from you and you and you!
I wish I was a Holocaust™ survivor
That would be so cool-ool!
For if I was a Holocaust™ survivor
I'd be supported by fools!
I finally got to be a Holocaust™ survivor
That is what really happened to me-eee!
Now that I'm a Holocaust™ survivor
I live the life of luxury-yyyyyy!
We're all Holocaust™ survivors
That's because we NEVER die-ieee!
And we get to stay Holocaust™ survivors
Since all we do is lie, lie, lie, lie-ieeee!"
(Sung to the tune of "I wish I was an Oscar Mayer wiener")
Maybe PBS would run some truth once and awhile, like the short list of
Jew butchery in the 20th Century?
The Gaza Child Massacre, October 12, 2006





•Qana's 2nd Genocide





• Bible Times--Jewish Use of Torture Against Religious People





•The Deir Yassin Genocide, April 9, 1948 -- 200 Palestinians Murdered By The Jews





•Qana Genocide, 17 Villages Flattened by Israeli Bombings, April 18, 1996





•The Iraq Genocide, 1990-Present





•Israeli Torture





• Sampson Option--Israel's World & Regional Nuclear Blackmail Plan [to nuke the entire planet if they don't get their way at the end]





•Jewish World Slave Trade - Jewish Atrocities





•The Hebron Mosque Massacre by Goldstein





•Bombing of the U.S.S. Liberty





•1967 Egyptian Atrocities
Bring that Jew butchery up to the present an it would require another large blog.
Will this holohoax crap ever stop or have we been condemned to a type of Judaic Hell, never able to escape their whiny, pitying, narcissistic, self-indulgent ways?