Jenin, before the savage Khazar lunatics calling themselves Jews went on one of their rampages.
Now that the lies of Israel being serious about negotiating a peace deal with the indigenous Palestinians
has been outed
in ways even the MSM can't deny,

more of what the psychotic, blood-sucking, mass-murdering Khazar Tribe did to the Palestinian refugee camp/city of Jenin in 2002, is what 'Bibi the Butcher' and his lunatic cabinet will visit upon the unarmed and forgotten by the world Palestinians.
When the unhinged Jew isn't shooting Palestinian women and children, or
crushing peace activists to death,
they're
burying families alive in a grave
made of a building pushed over by American supplied Caterpillar bulldozers while massacring 500 Palestinians in Jenin.
Here's a
small sample of the WAR CRIMES
committed in Jenin in 2002 by the Jew lunatics invading the refugee camp:
Witnesses stated unarmed people were shot and denied medical treatment, as a result died.





Human Rights Watch have regarded many killings to be unlawful such as the death of a 57 year old wheelchair bound man who was shot and run over by a tank despite having attached a white flag on his wheelchair.





Medical staff were shot at (one nurse killed) while trying to reach the wounded even after clearly being in uniform displaying the red crescent symbol. There have also been reports of Israeli soldiers using Palestinians as human shields, one father described how a soldier rested his rifle on his 14 year old son's shoulder as he shot.





Israel denied the entry of rescue teams and journalists into Jenin even after they withdrew.
Jenin, after the Jew invaded and took out its sexual frustrations on the unarmed Palestinians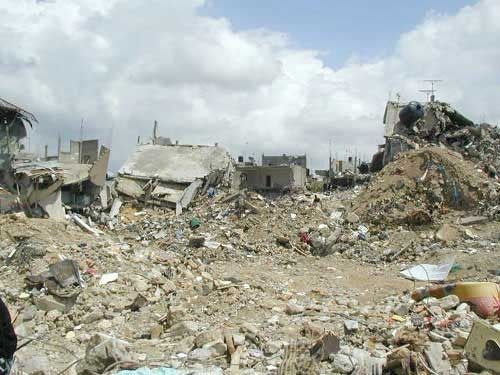 When Western reporters were
finally allowed
into Jenin, they reported that the stench of decomposing bodies from destroyed buildings hung heavily in the air.
But the European Union did 'consider' imposing some kind of
economic sanctions
against the Jew maniacs, but that thought quickly passed.
"Oops, sorry about that UN, but that's what you get for sticking your nose into our genocide!"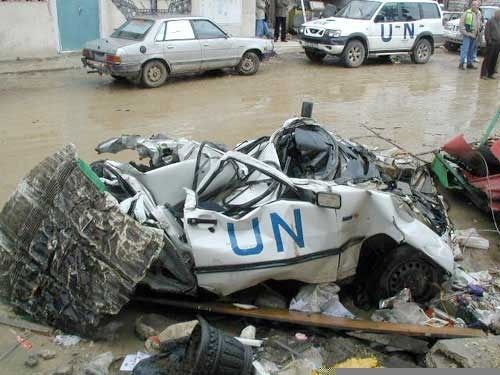 Click on the green markers in this map to learn more about these camps. Use the + button to zoom in and click on overlapping markers.
UPDATE: The above map doesn't work properly, so click
HERE
to see and read what's on the map at NPR.
Jenin refugee camp photos courtesy of
Jim Stone.
"Falastin, Not Israel"
Israel We Accuse