In
April 2014,
the 'anti-Semite' Jew-hating F. Glenn Miller shot and killed three GENTILES outside the

Jewish Community Center and the Village Shalom

care center in Overland Park, Kansas, a suburb of Kansas City.
When this psyops first hit the fan, the original story had a witness state that she heard Miller ask people if they were Jews or Christians before shooting them. So we have an 'anti-Semite' who only shoots three GENTILES, leaving the Jews alone.
That got cut out of the online KC Star and I lost the paper edition that had that story, so it was gone. But not yet, here's the TRUTH back front and center, showing the the 'anti-Semite,' F. Glenn Miller, went out of his way to avoid shooting Jews, the TRUTH which came out during a pretrial hearing.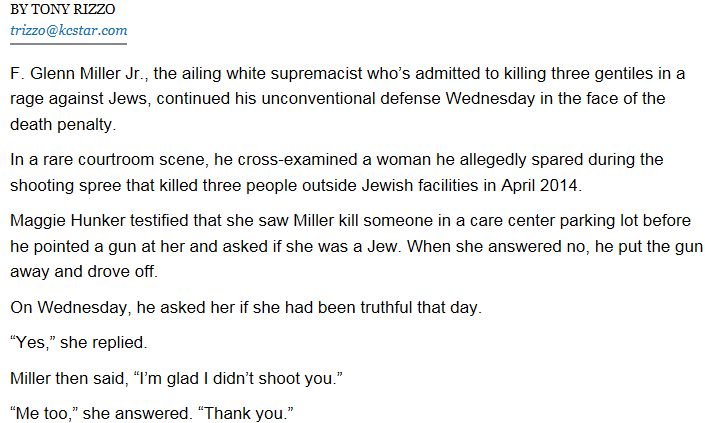 On Wednesday, he asked her if she had been truthful that day.





"Yes," she replied.





Miller then said, "I'm glad I didn't shoot you."





"Me too," she answered. "Thank you."




"I'm glad I didn't shoot you"? Sounds rather cordial and chummy, not what we've been conditioned to expect from an 'anti-Semite.'
After asking that one wintess her religion, the judge forbade Miller from asking that question again, which made the 'Jew hater' so pissed, he claimed, "This whole trial is predicated on my hatred of Jews."
Yes, hates Jews so much that he made sure he didn't shoot any when he went on his rampage, but did shoot Gentiles, after first asking them if they were Jews and then NOT shooting the 'Chosen Ones.'
Judge Thomas Kelly Ryan is the judge, a good Irish name, who rules at the Johnson County District Court.
JCDC
has it's share of 'Chosenites,' so it's amazing this 'Jew hater' was able to get an Irishman!
Nothing like 'Freedom of Speech and the Press,' especially when the "STAR" don't allow comments to this story, which is a rarity.
What are they afraid of, that the sheeple might be waking up and realizing they've been conned by the constant barrage of 'anti-Semite' anytime the Jews don't want to discuss something? Unless it's fawning praise for the Jews, just STFU and while we're at it, you anti-Semite, donate some money to the nearest holohoax museum.
There's around
300 Holocaust™
museums money-making centers around the world, with around 150 in Occupied America alone.
If one adds in the fact that
Miller was/is an FBI informant
, this has all the trappings of those poor fools who are duped into planning a 'terrorist' attack against the USA, if they only had some weapons, explosives, training, logistical help and a place to attack, which the
FBI readily provides.