Yes, call Abbas 'El Presidente,' since he's been ruling by force since January 2009, when both Israel and its colony, the USA, figured out Abbas wouldn't win the upcoming elections for the Palestinian Authority (PA), so they had Abbas cancel the election, citing the vague, worn-out imminent threat scenario. Cancel the elections, then declare yourself 'President for Life,' or until some Shin Bet assassins end his rule with a few bursts.
Abbas has threatened to
resign numerous times
, so the latest threat to
resign
won't turn many heads.
Some in the PA think the
best thing Abbas could do
would be to resign, but who knows what the spoiled brat Abbas will really do. Maybe he's just holding out for another deposit to his
Swiss bank account?
When the Khazar Mob occupying Palestine says Abbas is the most "courageous partner we have had," you know Gaza is in trouble along with the rest of Palestine.
During 'El Presidente's' time, some of the Zionist Occupation Forces
worst slaughters
against Gaza have taken place, with Abbas uttering the usual lame-ass sentiments against Israel. Abbas also probably had a hand in quashing the FIFA application to ban Israel from sanctioned matches, since the ZOF has a nasty habit of deliberately shooting
Palestinian soccer players.
"Ohh Ehud, please use KY Jelly this time!"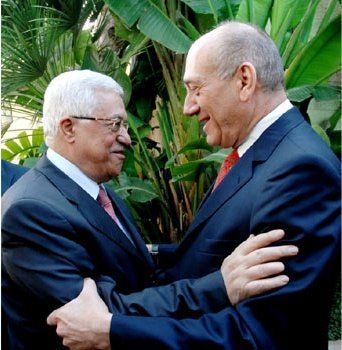 At one time, Abbas did have a conscience and a brain, when he published his 1982
doctoral dissertation
, "The Secret Connection between the Nazis and the Leaders of the Zionist Movement."
The highlighted part (above) is from the
Zionist Lie Factory, MEMRI
, so you know they're telling the truth, which is whatever they decide is the truth on that particular day!
In his 1983 book The Other Side: the Secret Relationship Between Nazism and Zionism based on the dissertation,

Abbas

denied that that six million Jews had died in the Holocaust; dismissing it as a "myth" and a "fantastic lie". At most, he wrote, "890,000" Jews were killed by the Germans. Abbas claimed that the number of deaths has been exaggerated for political purposes.

"It seems that the interest of the Zionist movement, however, is to inflate this figure [of Holocaust deaths] so that their gains will be greater.

This led them to emphasize this figure [six million] in order to gain the solidarity of international public opinion with Zionism.

Many scholars have debated the figure of six million and reached stunning conclusions—fixing the number of Jewish victims at only a few hundred thousand."
But that was then and this is now. Maybe Abbas is just tired and worn-out, as dealing with the treacherous Israelis will wear anybody down. Maybe it is time for 'El Presidente' to retire.